Located in Northeastern Pennsylvania, HTS Systems Lock N Roll, LLC. has dedicated itself to making your route delivery operations more efficient, safer and more profitable.
HTS Systems Lock N Roll manufactures hand truck retaining products for many sectors of the delivery industry, such as: Beverage Distributors, Food Service, Office Supply,
Air Freight, Parcel, Hazmat Removal and US. Postal. You can find our HTS Ultra-Rack products from Brooklyn, New York to Los Angeles, California, from Quebec, Canada to
Phoenix, Arizona and from Tampa, Florida to Fairbanks, Alaska! The Hand Truck Sentry System products are now available in Mexico, South America and Europe!
The patented Hand Truck Sentry System is purchased by many different types of business, within many sectors of the commercial delivery industry, food service,
beverage distributors, hazardous materials removal, aviation manufacturing, US Postal Service, energy industry, vending service and industrial cutting materials.
The HTS Ultra-Rack is now being used by Chevron Energy Corporation, Sikorsky Aircraft, Tooling Concepts, Sysco Food Service, McLane Distribution Services, Wal-Mart,
Stericycle StrongPak, MillerCoors, Coca-Cola, Pepsi Cola Bottling, Interstate Batteries, Deka Batteries, FedEx Ground, Polk County Tax Office, University of Missouri Health
Care, Cerritos College, Ryder Truck, Penske and many other corporations, universities and organizations. Fleet customer testimonials are now available on our HTS
Systems' customer survey web page. The HTS Ultra-Rack is available at major truck body manufacturers and large commercial truck lease companies. HTS Systems' sales
representatives now available in Canada, Mexico and South America. Contact your regional truck body sales representative about incorporating the HTS into your lease plan.
Our HTS Ultra-Rack products Hand Truck Sentry System is a registered US. patented product at the United States Patent and Trademark Office in Alexandria, VA.
Foreign Patent protection with the (PCT) Patent Cooperation Treaty is registered with the (WIPO) World Intellectual Property Organization located in Geneva, Switzerland.
HTS Systems is located in Scranton Pennsylvania and Echo Molding Inc. is located in Union, New Jersey. In 2012 JCM Manufacturing of Dunmore, Pennsylvania began
assisting HTS Systems in metal fabrication and assembly. HTS Systems also uses other local fabricators; such as Metal Integrity. We maintain excellence in workmanship
with the highest quality control standards! Our team of talented engineers and skilled production workers are devoted to manufacturing the highest quality products.
HTS Systems' knowledgeable sales representatives and friendly customer service staff are devoted to achieve 100% customer satisfaction!
For more information about Echo Molding Inc. visit them on the web at www.echomolding.com HTS Systems contracted LucDesign LLC. Mechanical Engineering & Design
and using advanced CAD program ProENGINEER while working with HTS Systems, BCR Mold & Tool to create the new HTS Ultra-Rack frame components. You can visit
LucDesign at www.lucdesigns.com
---
VIDEO SOURCE: YOUTUBE.COM - DIRECT LINK CLICK HERE
If you do not see a video cell above, click on the free download link: Adobe Flash Player version 10
---

For the past 8 years, HTS Systems Lock N Roll, LLC. has studied the Material Handling Industry, Delivery Industry and more particularly the individual tasks of the route
driver and their work methods. At every delivery stop or pick-up location we identified lost time, labor, productivity and multiple safety and liability issues. We discovered
freight claims, vehicle damage, fuel loss and injuries which resulted in extremely high losses for the delivery company! We also discovered that any driver who rushes
back (off-route) in a hurry to retrieve their forgotten hand truck is no longer a safe driver, they instantly become a liability! In many cases, it was not the delivery driver
nor the delivery company's actions when these problems occurred. The delivery companies had never implemented transport technology for hand trucks, which
could improve route efficiency, safety and reduce freight claims damage and fuel loss; because until now, the proper solution did not exist! The Hand Truck Sentry
System® transports your hand trucks safely and securely; instant access when your drivers need their hand trucks and out of the way when they don't!

HTS Systems' mission was to develop a product for the Delivery Industry that would solve most problems associated with the use of hand trucks on route. The Hand Truck
Sentry System ® concept originated from a beverage route driver. HTS Systems then focused on many additional aspects, such as: delivery time, safety, storage, liability,
cargo space, ergonomics, fuel loss, freight claims, theft, property damage and vehicle wear. We utilized state of the art technology and engineered the ultimate hand
truck delivery tool! Our products are manufactured from the highest quality materials, equipped with the latest technology and emerge from an extensive Research and
Development program. Our electrical components, latch assembly and hardware will endure and perform beyond the industry's expectations! Improving ergonomics and
safety can save your company money!
---
VIDEO SOURCE: YOUTUBE.COM - DIRECT LINK CLICK HERE
If you do not see a video cell above, click on the free download link: Adobe Flash Player version 10
---
You can always trust HTS Systems safety and productivity products for quality, dependability and performance!
Efficient, dependable, durable and very strong are just some of the words our customers use to describe our HTS hand truck retaining-productivity products.


The craftsmanship and quality of every Hand Truck Sentry System® product comes from our skilled manufacturing and assembly personnel, who take pride in all aspects
of fabrication and assembly. We are a dedicated team, on a mission, to provide our customers with the highest quality products!
The HTS Ultra-Rack Hand Truck Sentry System is made in the United States and manufactured in an environmentally friendly solar powered facility.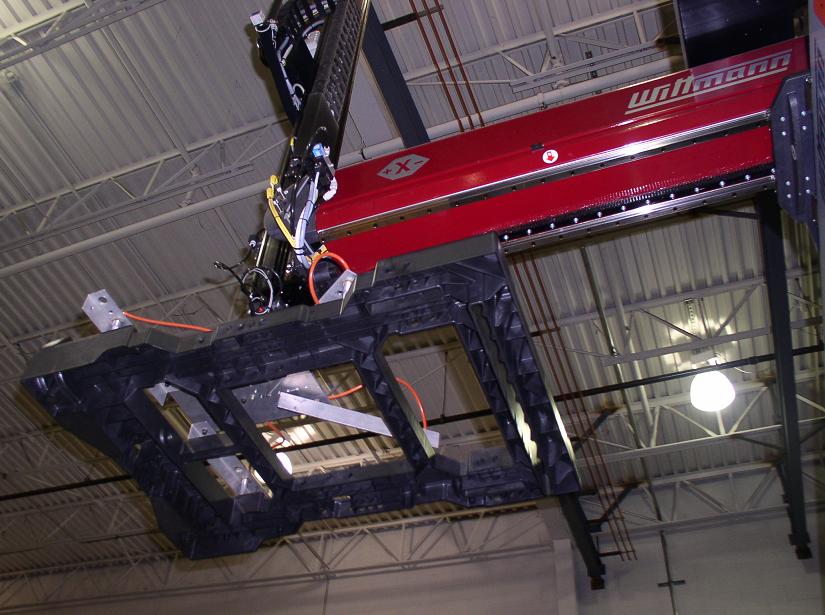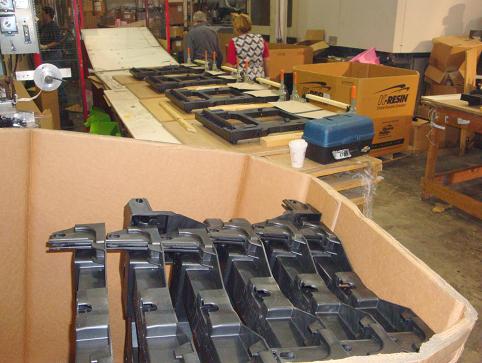 The robotic crane system extracts HTS Systems main frame from the injection mold and transfers the large part to production worker. The part is inserted into a form-set to cool for 25 minutes.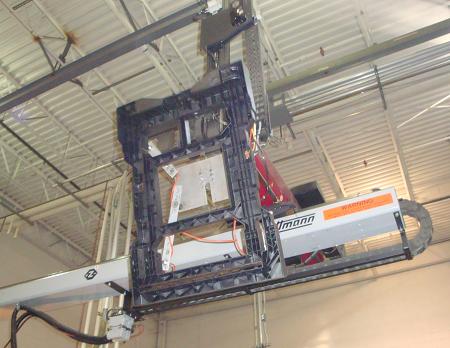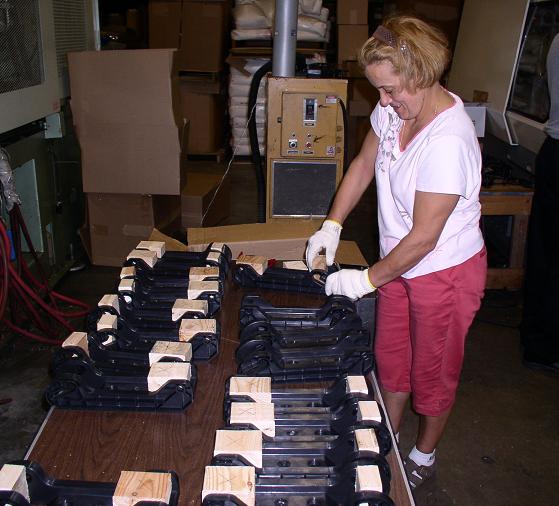 Whiltmann robotic crane extracts HTS nylon main frame from the HTS injection mold and 900 ton press. The HTS nylon parts are inserted into a form-set fixtures to cool for about 25 minutes.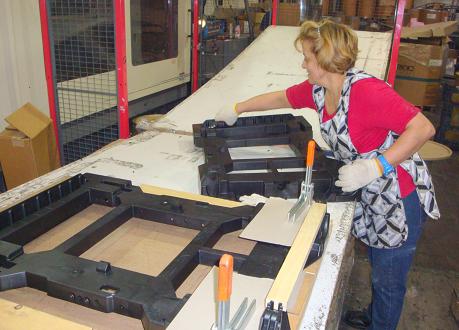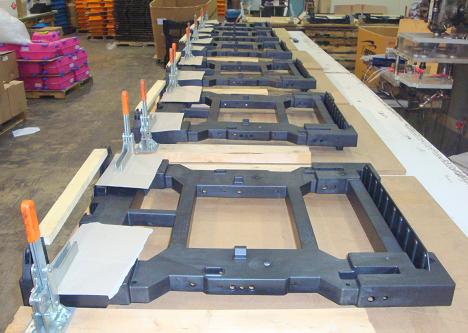 Maria at Echo Molding cuts away and removes the polymer gate screws from HTS main frame. Twenty form-set fixtures clamp and hold the HTS fames as they cool from 550° to room temp.
HTS Systems' polymer injection contractor Echo Molding Company operates our molds. HTS Systems' custom designed (6) injection molds at Echo Molding heat up to 600° degrees.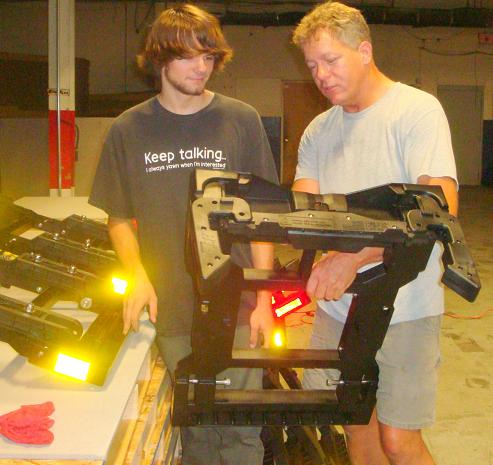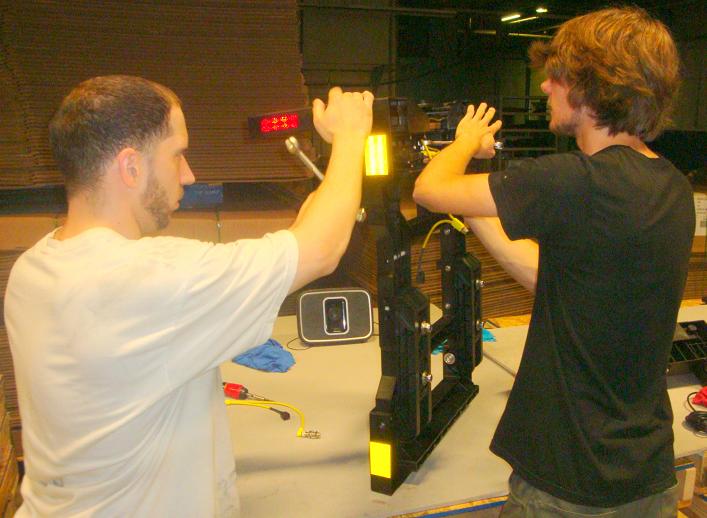 Carl Boettcher (R) designer instructs Allen Zitzelman (L) on assembly procedures. Martin Pupalitis Jr. and Allen Zitzelman of JCM Manufacturing finish the HTS electrical housing components.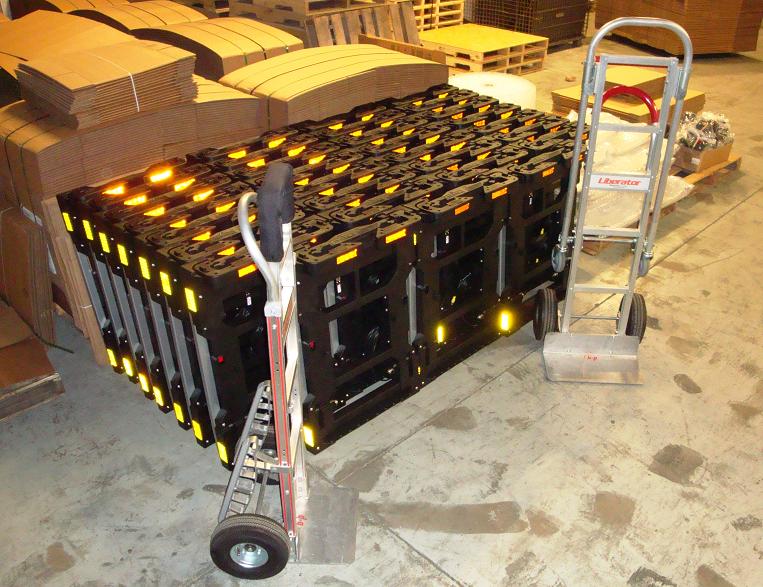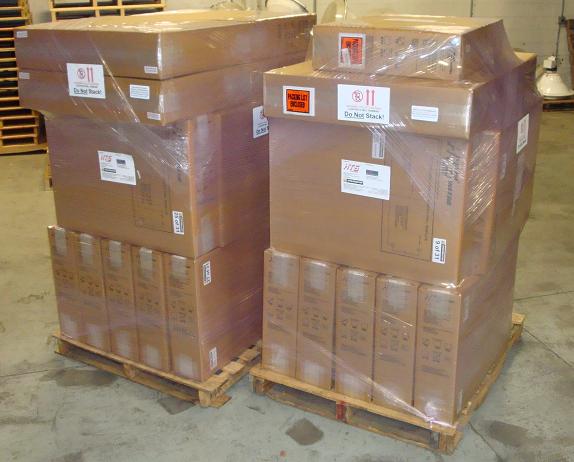 The HTS Ultra-Rack is compatible with most standard and convertible commercial hand trucks. HTS Systems ships customer orders of all sizes, from one (1) unit to one hundred (100) units.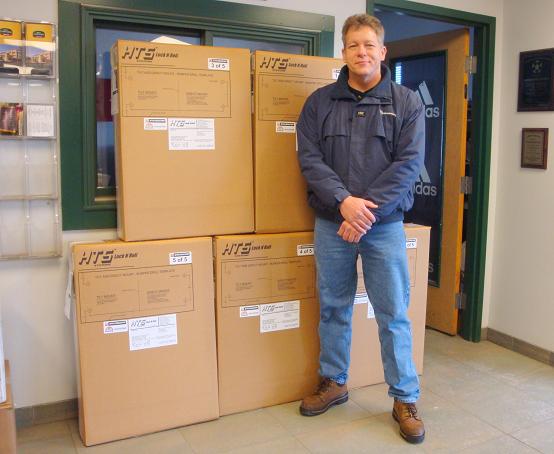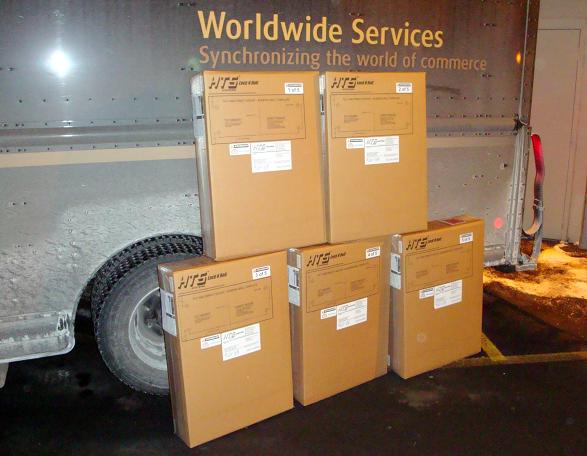 HTS Systems customer orders commonly range between 2-12 HTS units or 15-30 HTS units. Smaller shipments 1-10 are shipped UPS Ground or FedEx Ground, larger orders are palletized.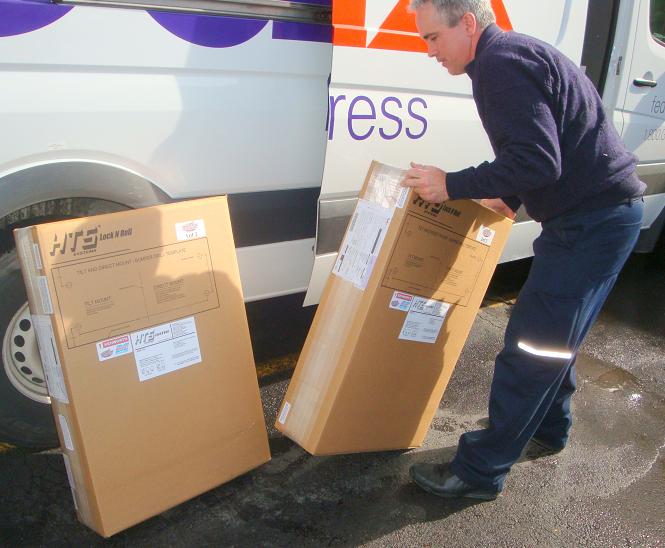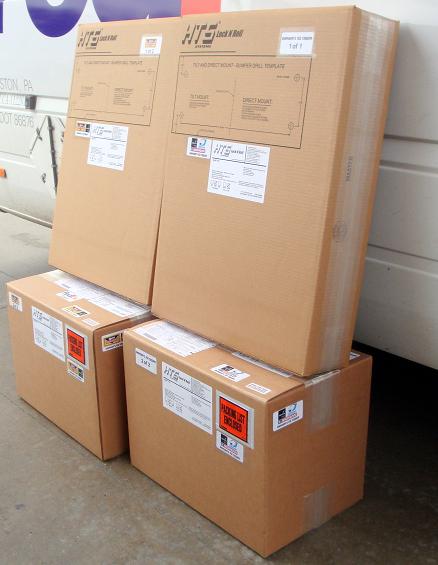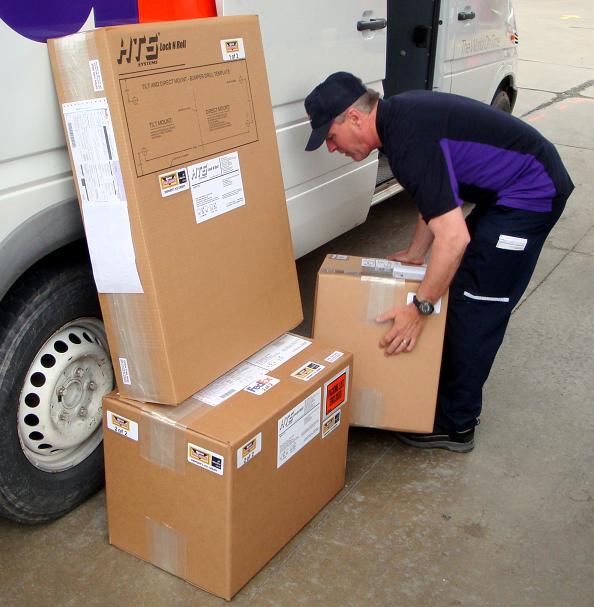 FedEx Express and FedEx Ground also ship our HTS equipment to customers. HTS-30D Direct Mount units with HTS-VDM brackets. HTS FedEx Express pick-up for Johnson Refrigerated Bodies.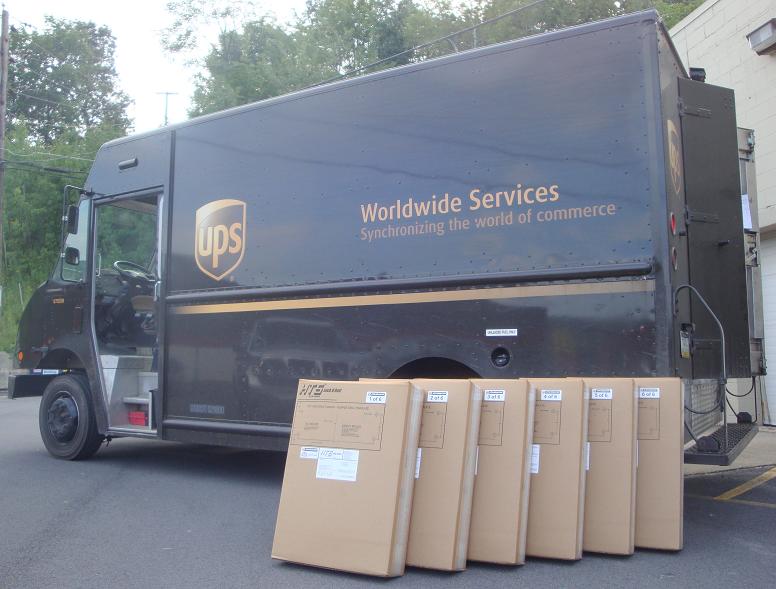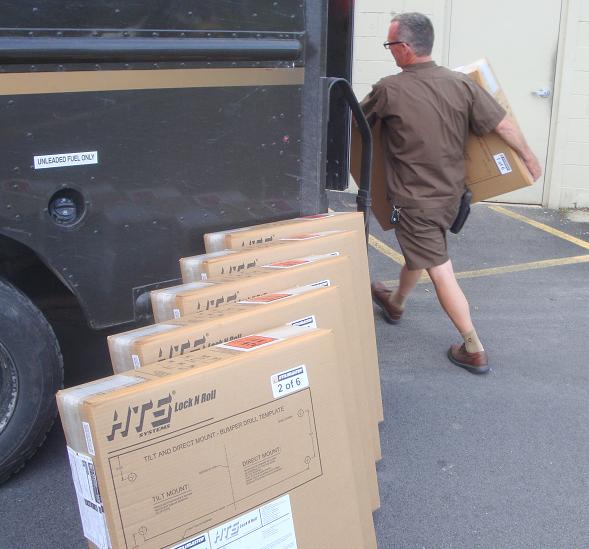 United Parcel Service UPS Ground shipment for fleet customers in the Midwest often deliver in 3-5 days. HTS Systems orders 1-10 units often ship parcel, orders 10-15 ship common carrier.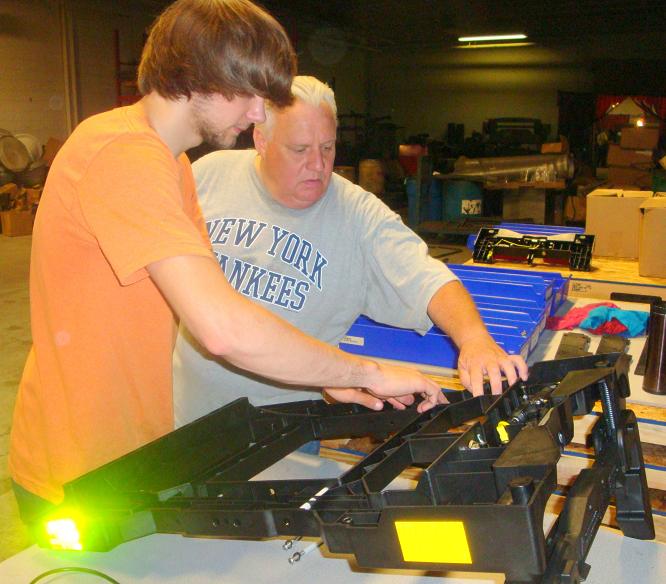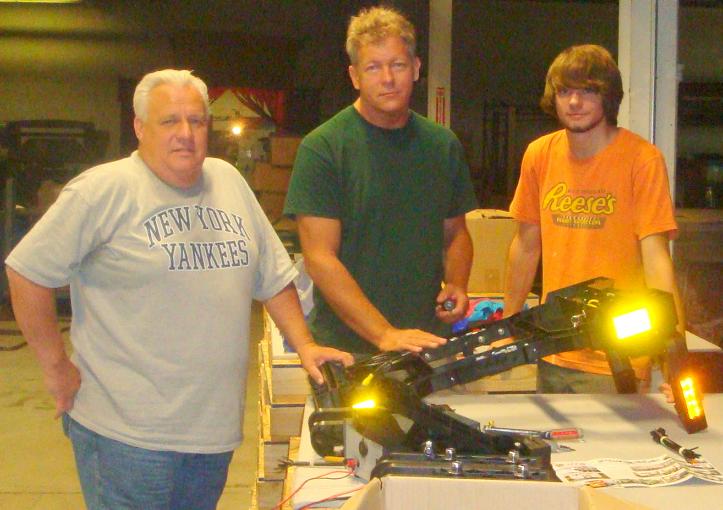 HTS Systems' Michael Clifford instructs Allen Zitzelman of JCM Manufacturing. Mike Clifford and Carl Boettcher of HTS Systems train new production workers at JCM Manufacturing.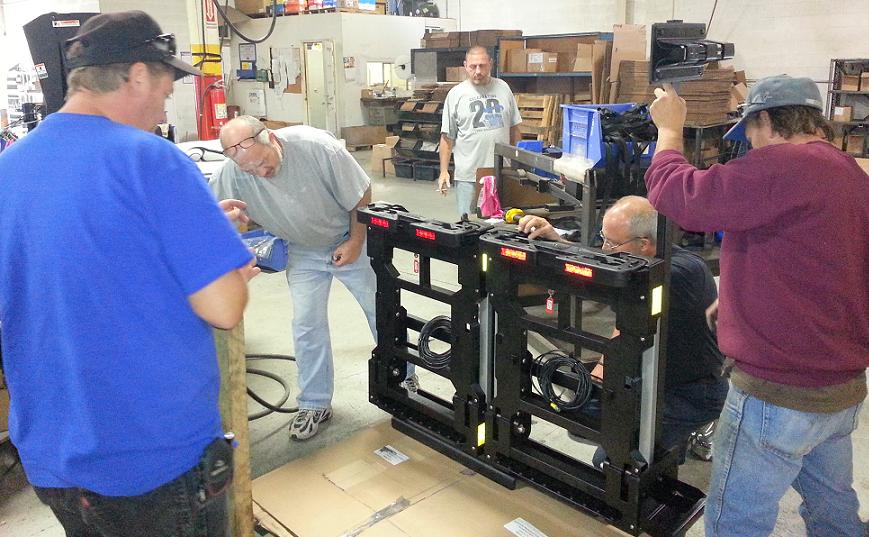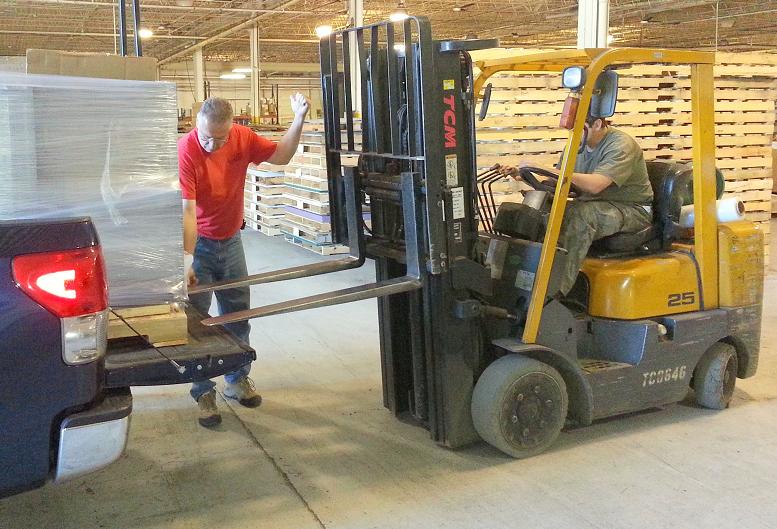 Rich Cucura, Marty Sr., John Kranick and Stash prepare HTS-30DTF-2 frames for shipping at JCM. Mike Vacendak of HTS Systems and Bill Moskalczyk of JCM Manufacturing load shipments.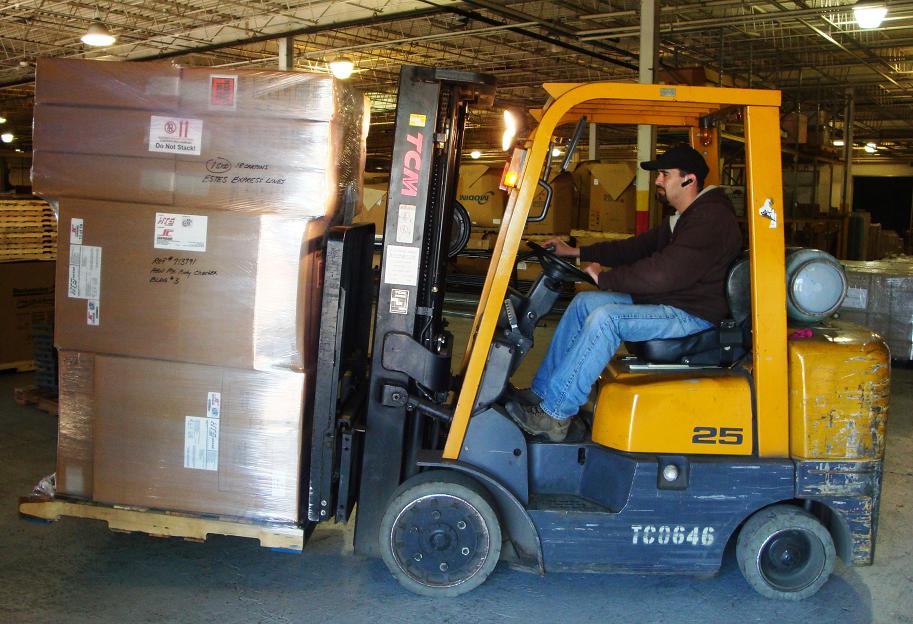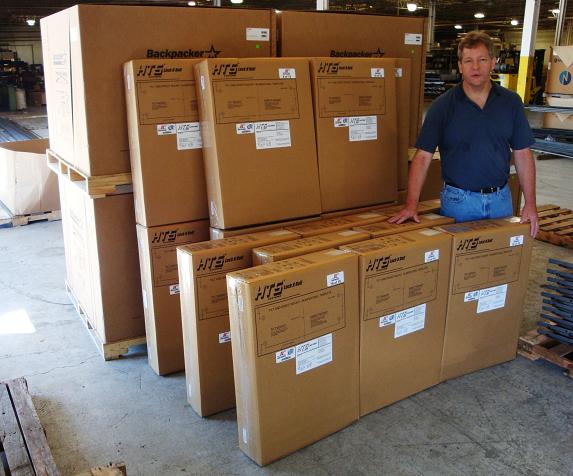 JCM Manufacturing forklift loading pallet of HTS-10T Tilt Mount Ultra-Racks aboard tractor trailer. HTS Systems' National Accounts Manager Carl Boettcher with fleet customer order.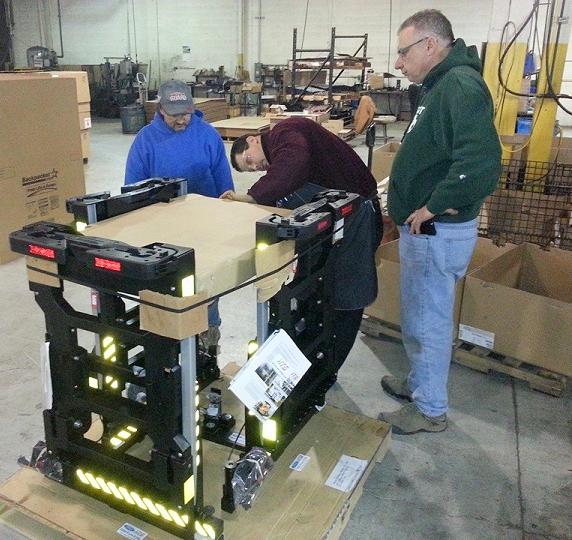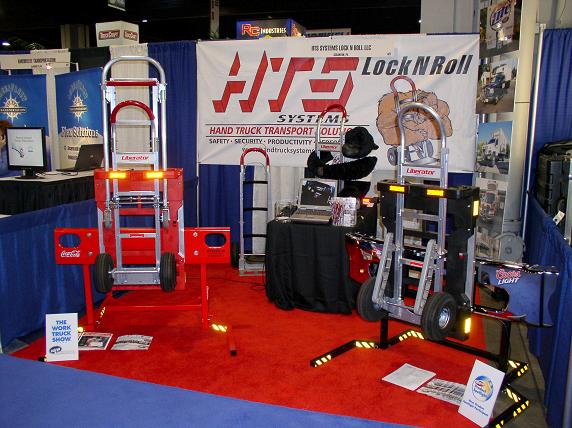 HTS Systems' Mike Vacendak (R) with JCM Manufacturing's Bill Moskalczyk 1-14 HTS Systems displays their HTS-10T Tilt Mount (front) models in Atlanta, Georgia Convention Center.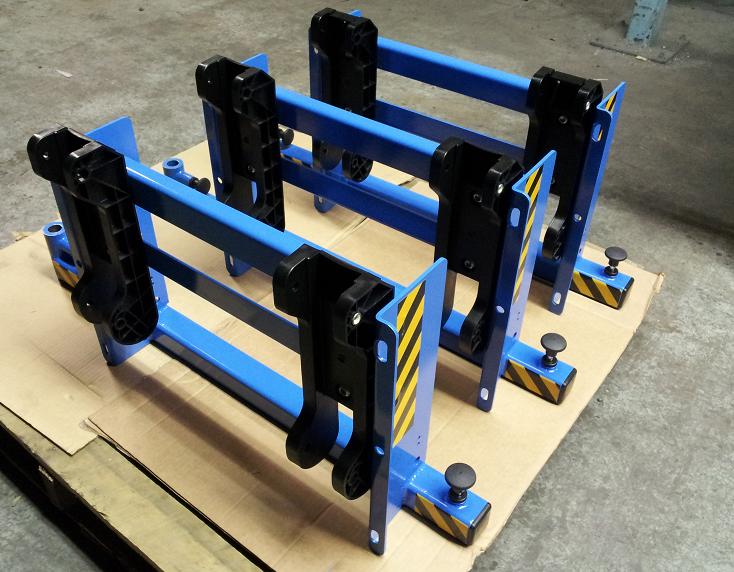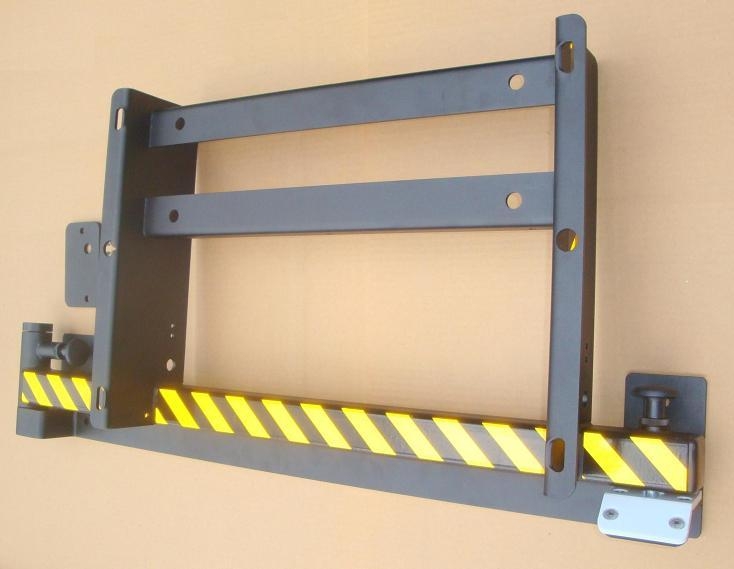 HTS-20S-TD Taylor-Dunn B-248GT 48VDC electric vehicle subassembly ready for final assembly. HTS-20S-TD Taylor-Dunn ET-150-74 Electruck HTS subassembly mounting bracket.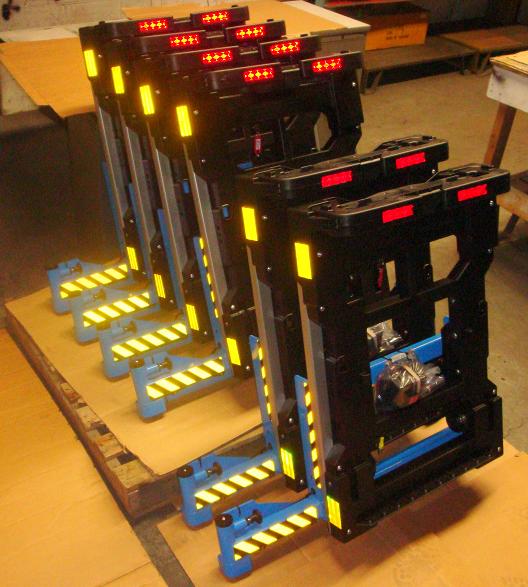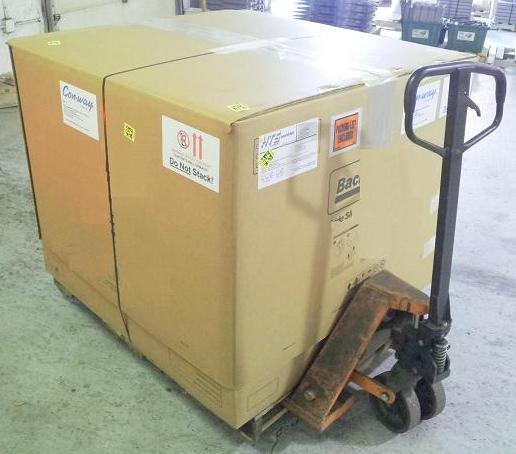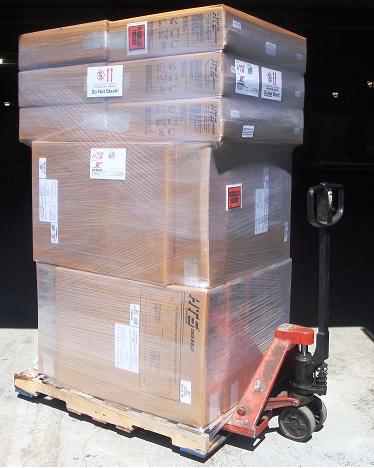 HTS-20S-TD Ultra-Rack units ready for packing and shipping. HTS Systems pallet (6-8 units) order ready for Con-Way Freight pick-up. HTS-10T pallet order ready for Supreme Truck Body.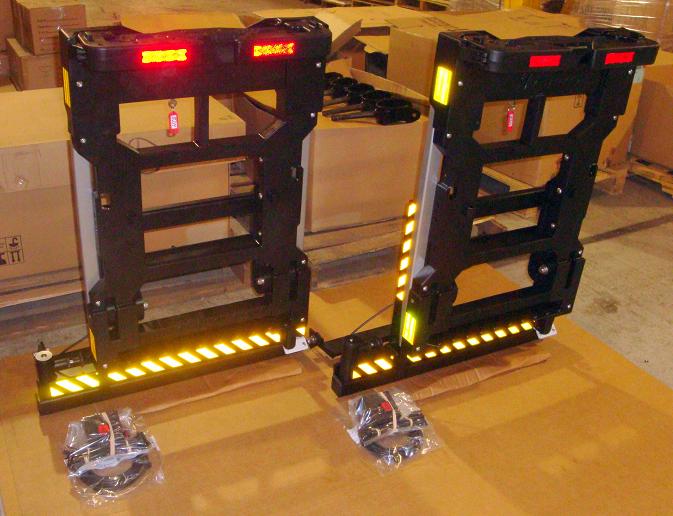 HTS Systems' fleet customer for Morgan Corporation Truck Body, WI., FL., GA. and Pennsylvania. HTS Systems' fleet order for Univ. of Missouri Health Care Ford Transit mini cargo vans.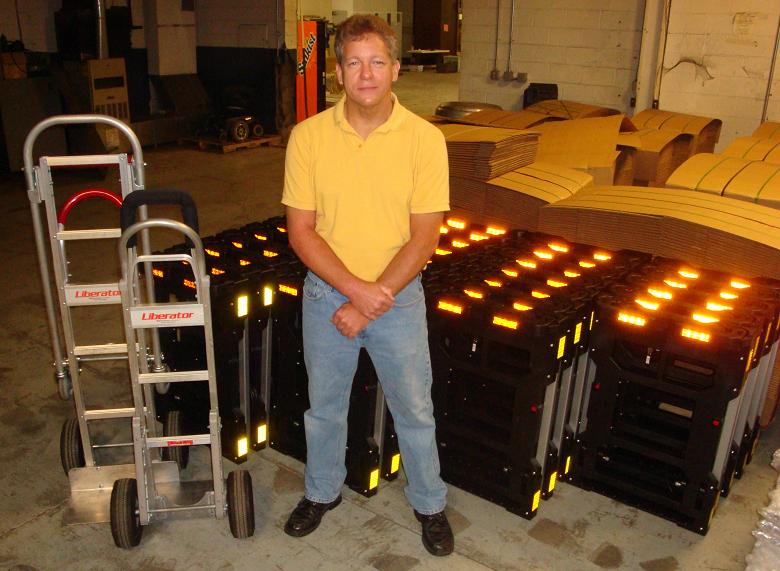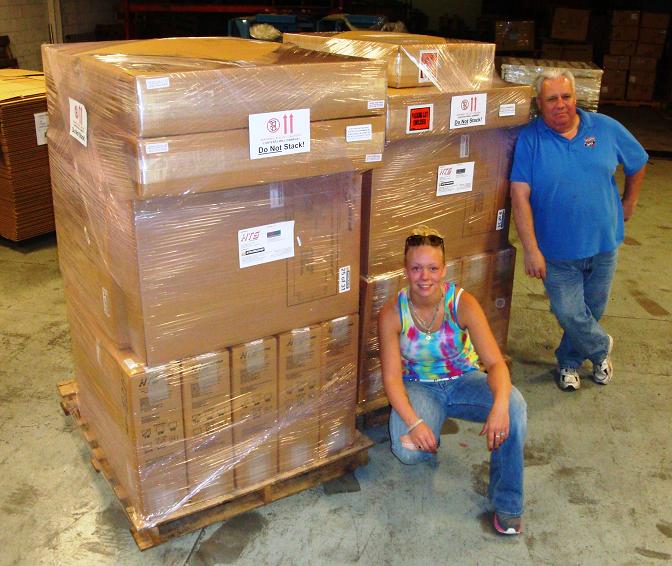 HTS Systems' National Accounts Manager Carl Boettcher w/ B&P Liberator hand trucks and HTS units. HTS Systems' shipping department prepares another two pallet order for our customer.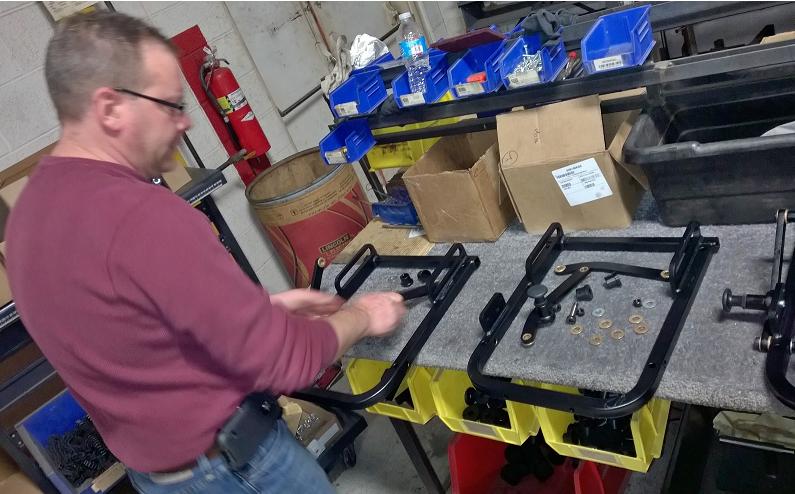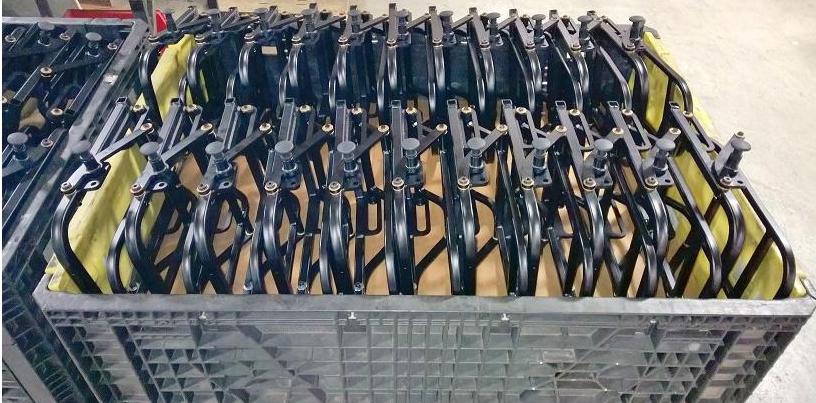 JCM Manufacturing's engineer Richard Stalter inspects HTS Systems' HTS-CC. HTS Systems' HTS-CC Cone Cradle traffic safety cone racks ready for quality control testing and ID number tags.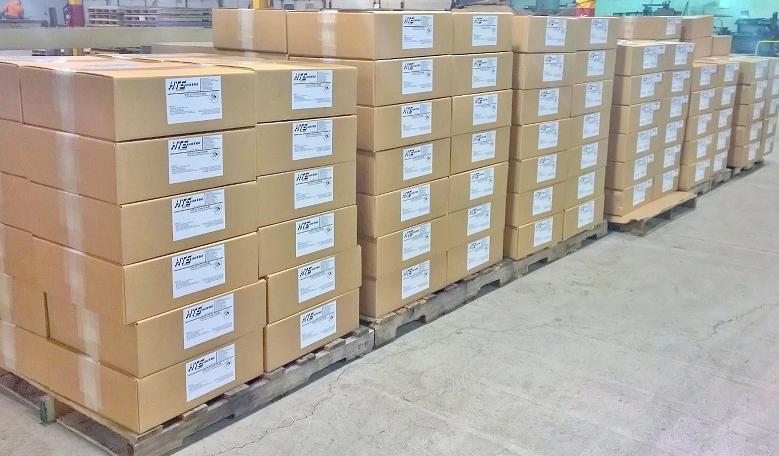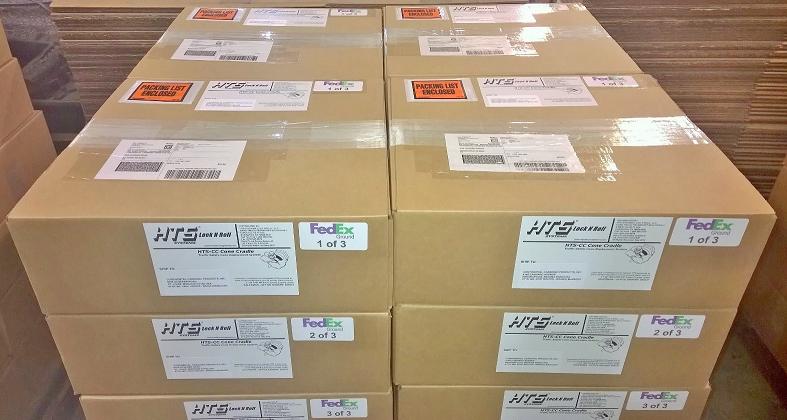 HTS Systems' HTS-CC Cone Cradle units palletized ready for shipping at JCM Manufacturing. FedEx Ground HTS-CC Cone Cradle safety cone rack shipment packaged and ready for delivery.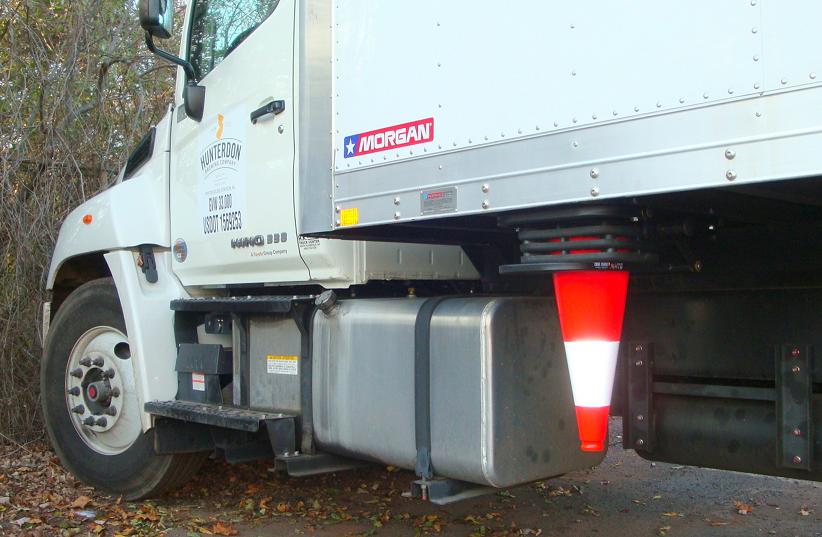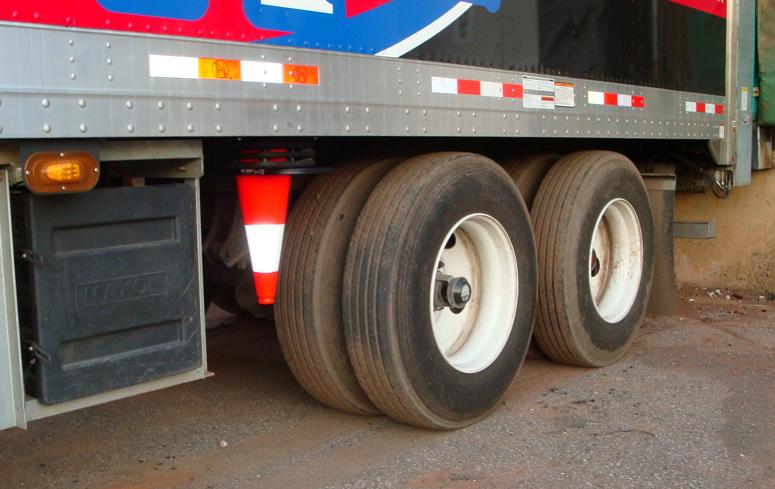 Hino chassis and Morgan Truck Body with HTS Systems' HTS-CC Cone Cradle safety cone carrier. Great Dane Trailer beverage truck, JBC Safety Plastic traffic safety cones aboard HTS-CC.

We are committed to providing you with the most dependable and the highest quality products in the world. There has never been a product quite like the Hand Truck
Sentry System®, a product that can do so much, so fast and the ability to quickly pay for itself! . We stand behind all of our HTS Systems products and believe
customer satisfaction is number one!!
---
---
HTS Systems' sales and customer service is there and always ready to answer your questions! If you need assistance, have a technical question, or just want to know more
about our product line and accessories, we have the trained staff to get the answers you need! The more informed you are about our products and applications, the sooner
you'll realize that HTS Systems Lock N Roll © is the right choice for your route delivery vehicles; whether it's a single delivery truck or a large commercial fleet!
HTS Systems Lock N Roll.© - the ultimate hand truck transport solution! Our patented Hand Truck Sentry System® with its remarkable innovative engineering
is your passport to safer, faster deliveries and higher profits, year after year! Guaranteed!
Visit our

gallery to view a variety of commercial delivery vehicles equipped with the new HTS: www.flickr.com/photos/handtrucksentry
Join our facebook page by clicking on the link above, to check out recent photos, new friends and upcoming trade show events.
Find us quickly on Google and search engines with keywords: hand truck lock|HTS Ultra-Rack|hand truck carrier|hand truck rack|hand truck safety
Visit us on the web at: www.handtrucksystems.com www.handtrucklock.com www.handtruckcarrier.com
www.handtruckrack.com www.handcartrack.com www.handtrucksentry.com
---
HTS Systems Lock N Roll, LLC. Hand Truck Transport Solutions© HTS Ultra-Rack®
5 West Olive Plaza - Scranton, Pennsylvania 18508-2531
Phone: 1-866 388-2102 (570) 342-2102 Fax: (570) 347-3878 E-mail: info@handtrucksystems.com
Web Site Design © 2014 by Tom Harrington Web Site Design. HTS Systems Lock N Roll, LLC.™ HTS Systems logo ®
© 2014 HTS Systems Lock N Roll, LLC. HTS Ultra-Rack® Hand Truck Sentry System® All Rights Reserved.
Revised/Updated: 04/09/15 07:46 AM
Our web site is optimized for Microsoft Internet Explorer 8.0 with Adobe Flash Player 10