---
The HTS Ultra-Rack is compatible with the industries most popular commercial aluminum hand trucks and many tubular steel hand truck designs. Please call our customer

service center to learn more about deck platforms and hand truck accessories that may conflict with the HTS Ultra-Rack. Hand trucks equipped with deck plates can not be

transported on front mounted HTS-10T Ultra-Rack units. Federal and State DOT safety and visibility regulations prohibit blocking the driver's view. Most hand trucks attached

to front mounted HTS-10T Ultra-Rack units will rise above the vehicle grill and hood line. The driver must be able to see safely through and around the hand truck frame, so

as not to obstruct road visibility.

B & P Manufacturing/Liberator/Challenger

Magliner/Gemini/Liftkar Wyse Industrial Carts New Age Industrial

Wesco/Cobra/Spartan/Mighty-Lite Harper Trucks Morse Metal Products Cascade

Lockwood Manufacturing Honeyman Hand Trucks Fairbanks Yee Shiuann

Gleason/Milwaukee/Dayton Hand Trucks RWM Caster Company Dutro Ta Yeou

Hamilton Caster/Ultra-Lite Vestil Manufacturing Daisy Qingdao Gaotain/Hank Trucks

Valley Craft/Dura-Lite Akro-Mils Clarke Yewe Yih Enterprises

Carmeccanica/Italy Purcel Enterprises/Grizzly LiftRite Lien Chief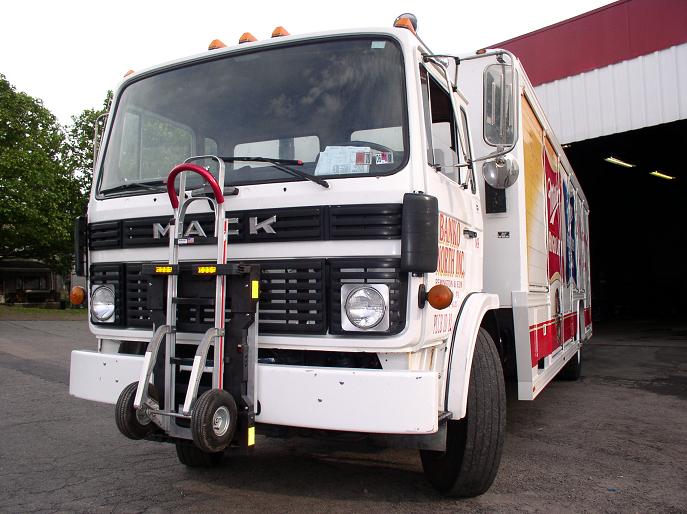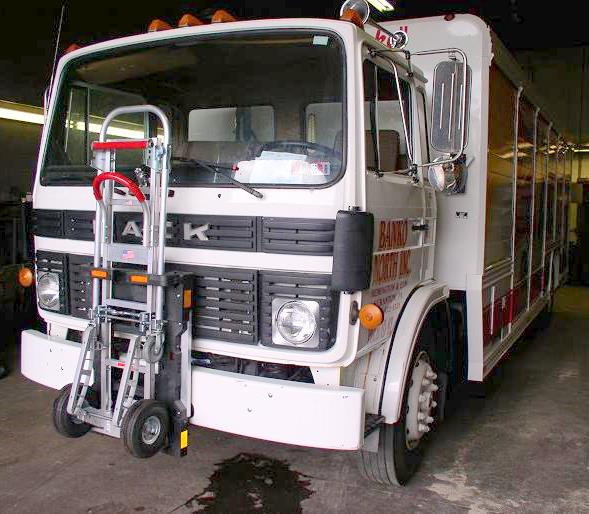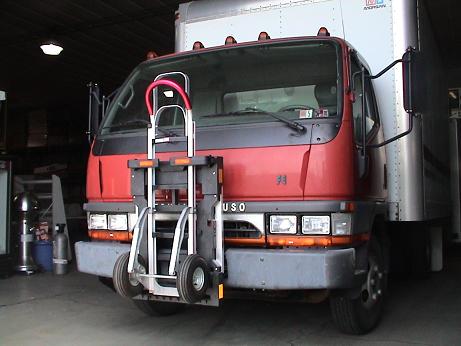 The HTS Ultra-Rack quickly secures standard and convertible or platform (cart conversion) hand truck models; such as Wesco Cobra, B&P Liberator,

Magliner Gemini, Lockwood, Harper and Spartan models. Magliner beverage hand truck in HTS-10T Tilt Mount Ultra-Rack.

How much time and labor does it take to install the HTS Ultra-Rack?

The HTS is easy to install and all attachment fasteners, templates and hardware are included. The wiring harness is safe, easy and quick to install! The HTS electrical

system plugs directly into your vehicle's fuse box, no wire taps, cutting or splicing required. Trucks with Multiplex wiring systems may require a female (provided) terminal

connection. The HTS installation time normally requires (1.5 - 2) hours to complete wiring installation and unit assembly procedures. First time installations may take longer,

please review manual Please carefully read the entire HTS manual before starting installation. The installation time will vary depending on the body design of the route

vehicle, the HTS unit model, mounting location and familiarity with our quick and easy HTS Ultra-Rack installation manual.

The electrical system is extremely durable and very reliable. The system is very similar to the trunk release switches found in most automobiles and works off the ignition

circuit of the vehicle. The HTS is engineered and designed to withstand extreme weather and road conditions such as: temperature, rain, ice, snow, wind, road dirt,

vibration and wear contact. The HTS Ultra-Rack is durable, strong and virtually maintenance free.
---
A

ll truck chassis models must be properly identified when ordering to include the proper spacers and stainless steel fasteners with the HTS adapter plate installation kit.

Navistar – DuraStar, WorkStar and TranStar chassis models require the: AP-01 standard adapter plate

Navistar – DuraStar Non-

CDL low profile chassis or with low profile tires requires the: APH-03 high position adapter plate

Navistar – CityStar cab-over chassis requires the:

APH-04 high position adapter plate

Navistar – 4700 Series or older (late model chassis) requires no HTS adapter plate (HTS shim kit provided)

Freightliner M2 chassis models (all business class models) require the: AP-01 standard adapter plate

Freightliner M2 chassis (business class) with recessed axle (low bumper) requires the:

APH-03 high position adapter plate

Kenworth - T300 - T600 tractor chassis models require the: AP-02 Kenworth adapter plate (mounts behind the front bumper)

Peterbilt conventional models 325 - 330 - 335 chassis models require the: AP-01 standard adapter plate

Peterbilt cab-over 210 - 220 chassis models require the: APH-04 high position adapter plate

Sterling Acterra class 5-8 chassis models require the: AP-01 standard adapter plate

Sterling 360 cab-over chassis models require the: APH-04 high position adapter plate

Sterling Bullet chassis models requires the: AP-01 standard adapter plate

Ford pick-up truck chassis F250 F350 models require the: AP-01 standard adapter plate

Chevy pick-up truck chassis (Chevrolet Silverado and

Colorado) models require the: AP-01 standard adapter plate

Mack cab-over (late model chassis) requires no HTS adapter plate

Mack cab-over chassis Freedom XL XXL models require the:

APH-04 high position adapter plate (Freedom L is not compatible)

Mack conventional chassis (Freedom model) requires the: AP-01 standard adapter plate

GMC Top Kick chassis (C Series model) and GMC Top Kick tractor requires the: AP-01 standard adapter plate

GMC cab-over chassis (T Series model) requires the:

APH-04 high position adapter plate

GMC cab-over chassis (W Series model) requires the:

APH-03 high position

adapter plate

GMC 3500 cab-over chassis model requires the:

APH-03 high position adapter plate

GMC pick-up truck chassis Sierra 2500HD 3500HD models require the: AP-01 standard adapter plate

Hino Truck conventional chassis models 145-165-185 -238-258ALP-258LP-268-268A-338-338CT require the: APH-03

high position

adapter plate

Isuzu Truck cab-over chassis N series model requires the: APH-03 high position adapter plate

Isuzu Truck cab-over chassis F series model requires the: APH-04 high position adapter plate

UD Nissan cab-over chassis models 1400 1800 1800CS 1800HD 2000 2300 2300DH 2300LP 2600 3300 require the: APH-04 high position adapter plate

Volvo cab-over chassis FE and FL models require the:

APH-04 high position adapter plate
---
ATO Standard fuse Add-A-Circuit

ATM Mini fuse Add-A-Circuit

HTS common ground eyelet

HTS Systems Add-A-Circuit plug-in power connection on International Navistar 4300 Series truck.
HTS Ultra-Rack 20ft. Homerun Micro-cable HTS Ultra-Rack 30ft. Micro-cable extension

The new HTS-KRA Keyless Remote Access kit allows the route driver to quickly unlock and release their hand truck with just a button.

The new HTS-KRA remote saves route time, fuel and prevents worker injury by reducing climbing and lifting at every delivery location.

HTS Ultra-Rack Electrical Package

HTS Ultra-Rack Electrical Harness

HTS Ultra-Rack 40ft. Micro-cable extension

The new HTS-KRA remote installs easily in just minutes.

The HTS-KRA clips to a belt loop for quick and easy access.
Will the HTS Ultra-Rack fit my route vehicles?

Yes... the HTS is designed to fit most route delivery vehicles. We offer three (3) different

HTS Ultra-Rack models, each unit is designed for a different vehicle mounting location or

truck body. The HTS Systems' frames are identical, with the exception of the mounting

(bumper/body mounts) components, reflectors and hardware.

How do I install the Hand Truck Sentry on my route vehicle?

Just double click on one of the Installation Download Instructions on the PDF links below,

download your HTS installation manual and print it out. Read and follow the HTS

installation steps and you're ready for the road. If your delivery truck is a Ryder or Penske

lease vehicle, please contact your local facility. Ryder and Penske can provide professional

installations and service. Many of our customers use Penske or Ryder leased fleet vehicles.

The HTS T-Series HTS-10T Tilt Mount is designed for the front of most truck models.

The HTS Tilt Mount has the ability to tilt forward and pivot 45° or 90° off the front vehicle

bumper to clear the hood or cab-over body when accessing the engine compartment.

Release the tilt latches and tilt unit 45° or tilt and lift to lower unit to 90° degrees.

HTS Ultra-Rack Installations and Assembly Instructions Download PDF Links below:

User's computer must have the free Adobe 9.1 Reader program installed to download, open

file and view the HTS Ultra-Rack installation instructions and owner manuals.
Simply tilt the HTS-10T unit forward to access the vehicle engine compartment for routine maintenance safely and quickly on all Cab-over model trucks.
---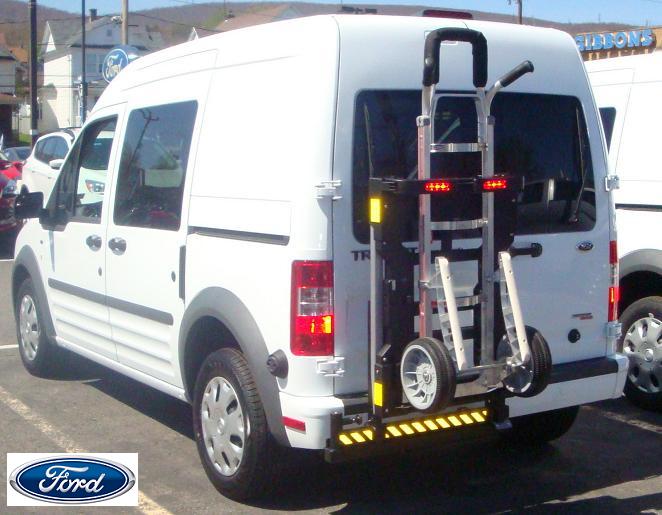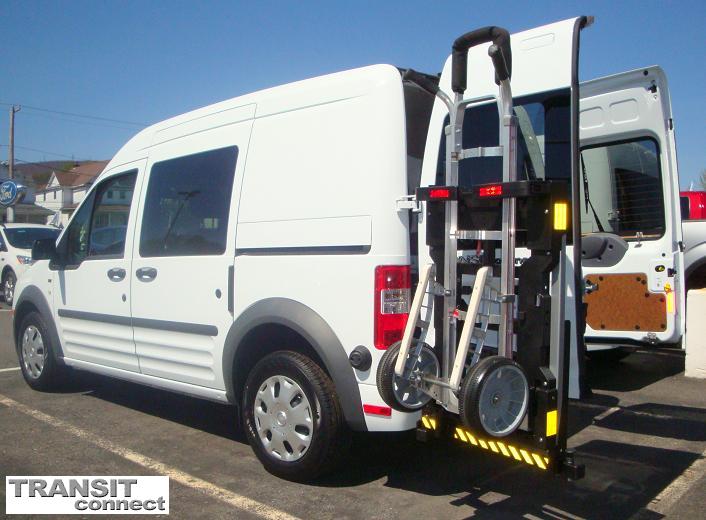 Images courtesy of Gibbons Ford Dickson City, PA. and Ford Motor Company - Ford Transit HTS-20SFT Ultra-Rack units swing open beyond 90° and to 180° to allow full open door access.
No matter how or where you store a hand truck inside a cargo van, it takes up valuable cargo space, damages product, requires physical effort and can cause work related injuries. Not Anymore!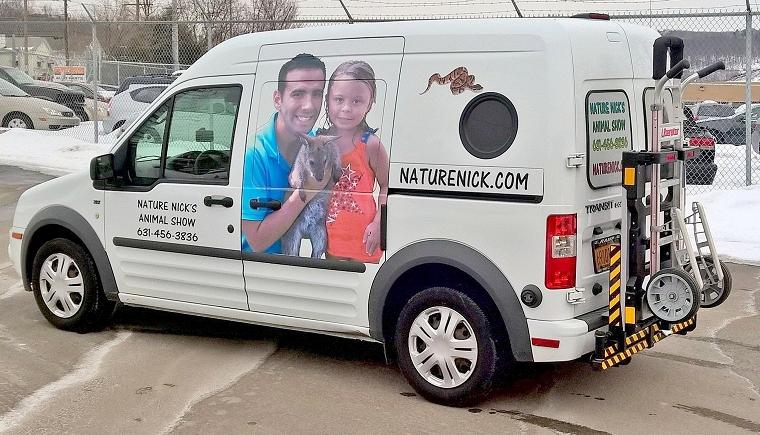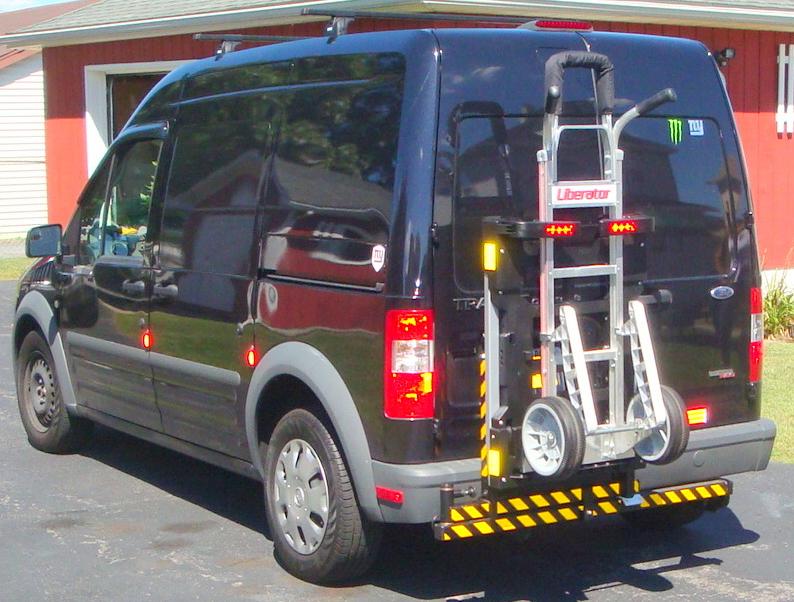 Ford Transit parcel delivery van equipped with HTS Systems' cargo van equipment hand truck carrier rack. HTS-20SFT Ultra-Rack hand truck carrier rack equipped on Ford Transit mini van.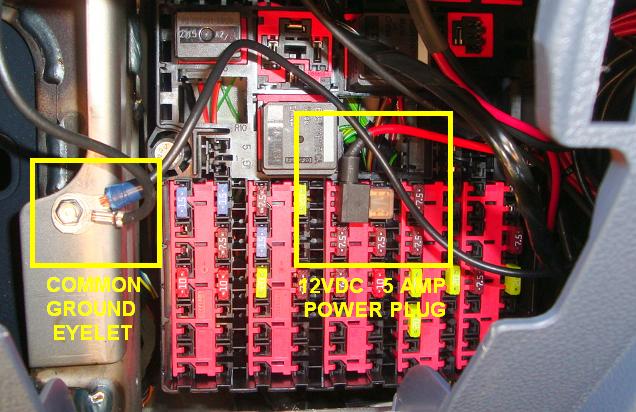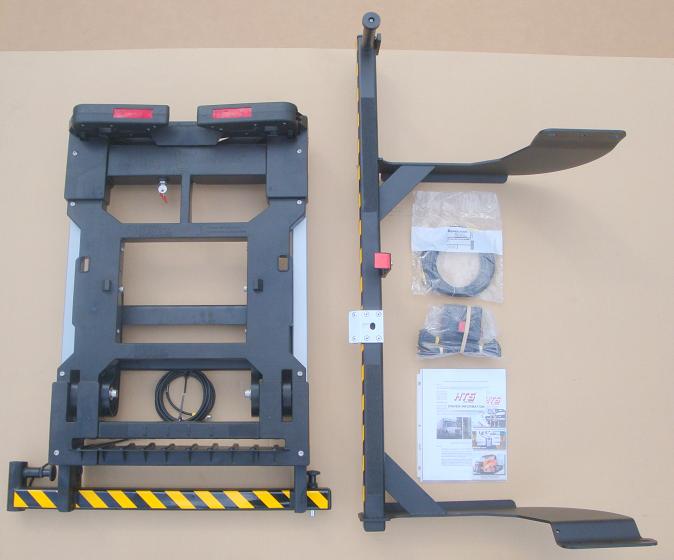 HTS unit quickly plugs directly into the vehicle fuse panel, using an accessory fuse port between 5-25 amps. HTS-20SFT Ultra-Rack installation kit designed for the Ford Transit mini cargo van.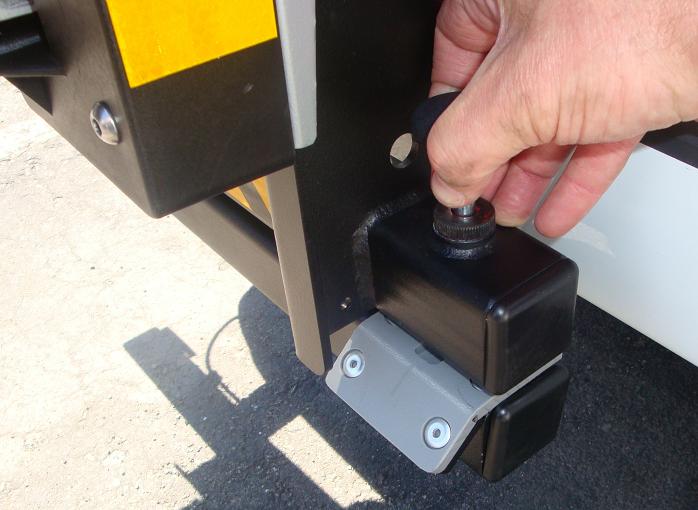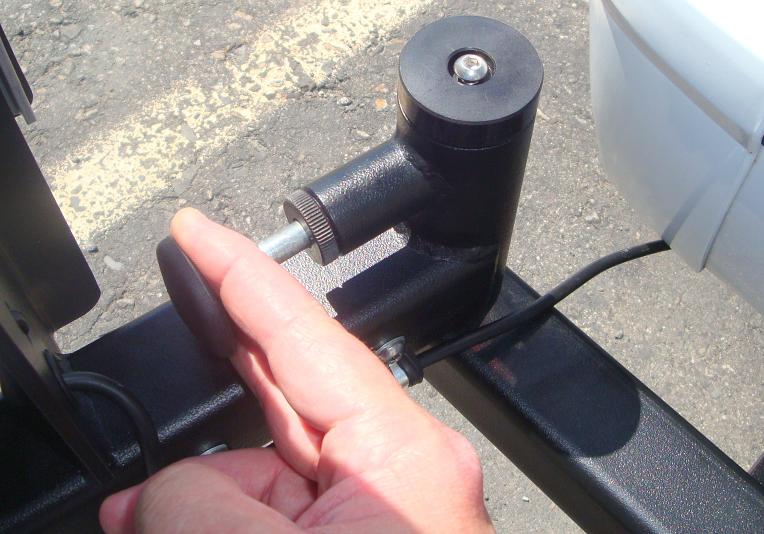 Ford Transit Connect HTS-20SFT Ultra-Rack simply pull the travel pin upward to release and swing out HTS-20S frame. Pull out hold pin to go beyond
90° and to 180° degrees open position.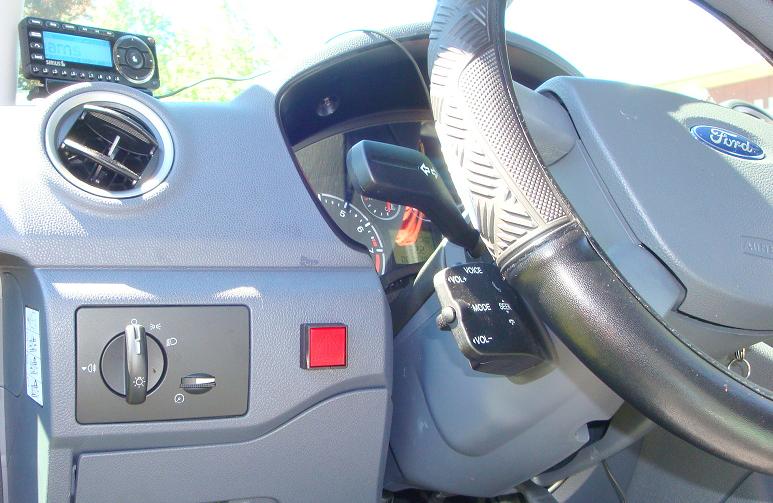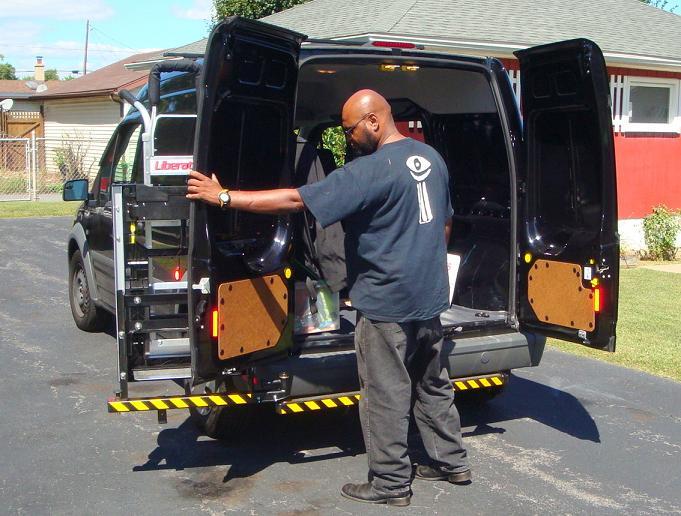 Ford Transit Connect mini cargo van cab interior dash board HTS Systems' IDEC LED switch. Darryl Johns of New York demonstrates the HTS-20SFT unit 180 degrees full door position.
---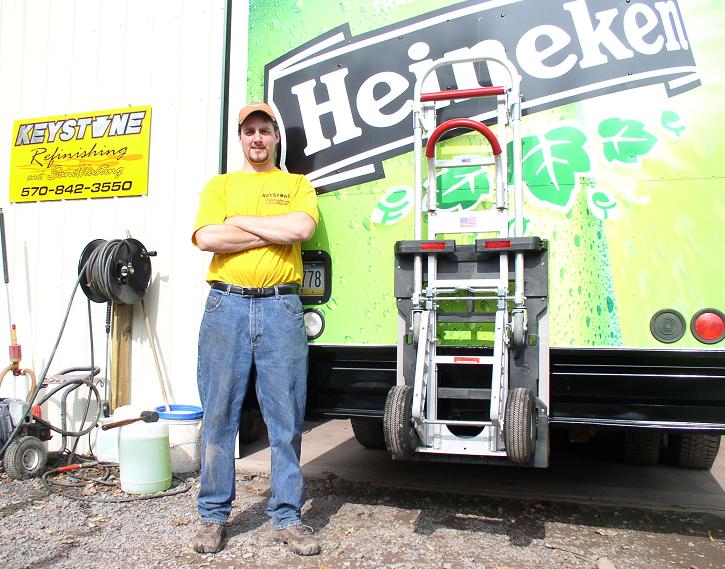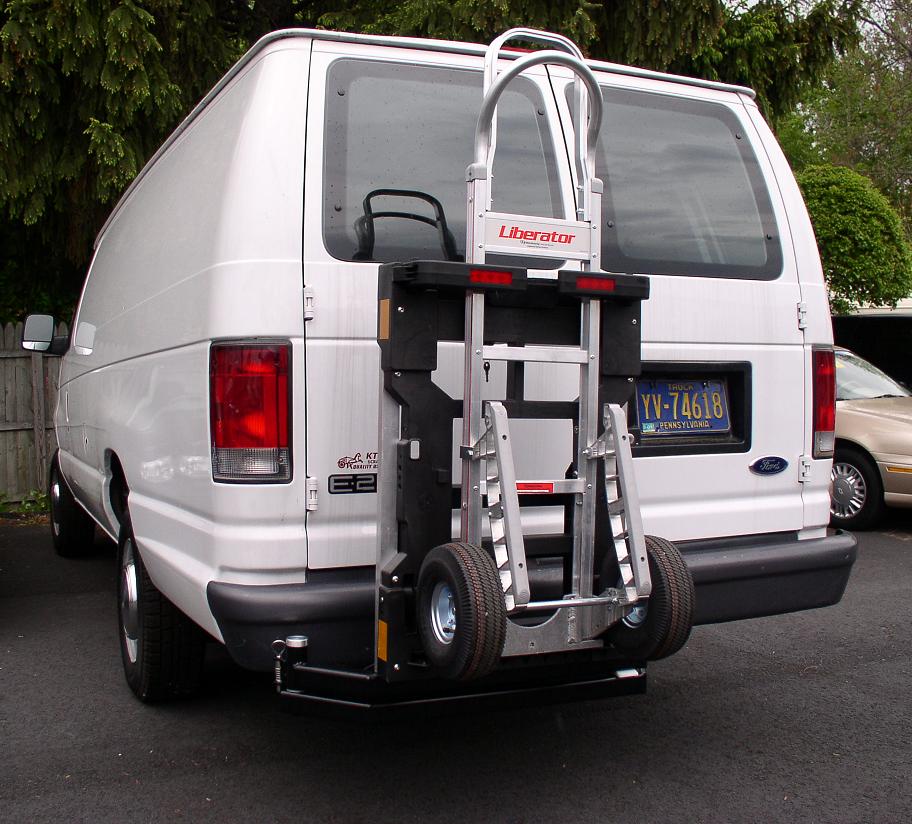 HTS Systems' HTS-30D Direct Mount Ultra-Rack unit securing B&P Manufacturing Liberator aluminum platform or (convertible) hand truck installed on

LT Verrastro Beverage by Keystone Refinishing.

"The HTS Ultra-Rack is very easy to install.... and a superior method to offer my beverage fleet customers"

Kevin May - Owner - Keystone Refinishing & SANDBLASTING - MADISONVILLE, PA.

The HTS S-Series HTS-20S Swing Mount is designed for rear of full size commercial vans and smaller Sprinter vans. The HTS Swing Mount design is similar to an

exterior wheel chair or scooter carrier and swings out from the van to access and open the secondary left side door.

"When the HTS Ultra-Rack is bolted securely to the delivery truck the rigidity of the vehicle's bumper and frame is transferred to the installed unit,

making the Hand Truck Sentry System very strong!"

Carl Boettcher - National Accounts Manager -

HTS Systems -

March 2009

never

HTS Systems' HTS-20S Ultra-Rack unit is designed for all Sprinter vans and all full size Ford E150 E250 and E350 commercial delivery vans.

In the commercial van market for companies that deliver parcels and documents, paper and janitorial products, food vending and medical supplies, there is no ideal

method to safely transport a hand truck, without tossing it into the vehicle. Current methods take-up valuable cargo space, damage products and require greater physical

effort to stow the hand truck. Our HTS-20S Swing Mount is designed for the rear of most delivery vans will solve nearly every issue associated with smaller delivery

vehicles-hand truck operations, saving our customers time and money!

What types of materials and components go into the HTS Ultra-Rack?

After (4) four years on the road, 5-6 days per week and thousands of cycles later, our first installation units still look and operate like new! The HTS Ultra-Rack is built

tough and made to last!

Only the highest quality components and materials are used to construct our HTS Systems products. The frame and components assembly are

constructed from super strong, high impact, light-weight Nylon 66 glass-filled polymer. This new Nylon 66 polymer is extremely strong and a very light weight material.

It can endure extreme temperatures without becoming soft in hot environments or brittle in cold weather. The polymer frame components are also reinforced with fiber

glass particles to increase rigidity. All HTS parts components have been designed with state-of-the-art CAD engineering programs and advanced chemical engineered

materials. The super tough, glass filled nylon #66 polymer used to manufacture the HTS has been tested and designed for many different applications for the automotive

industry. We have selected some of the most advanced and strongest polymers in the world. The HTS was designed to perform in all environments and weather and built

to last! The electrical components are the most advanced electronic hardware assemblies ever used for an automotive application. The HTS inductive proximity sensor

switch was designed specifically for HTS Systems and comes with a lifetime warranty!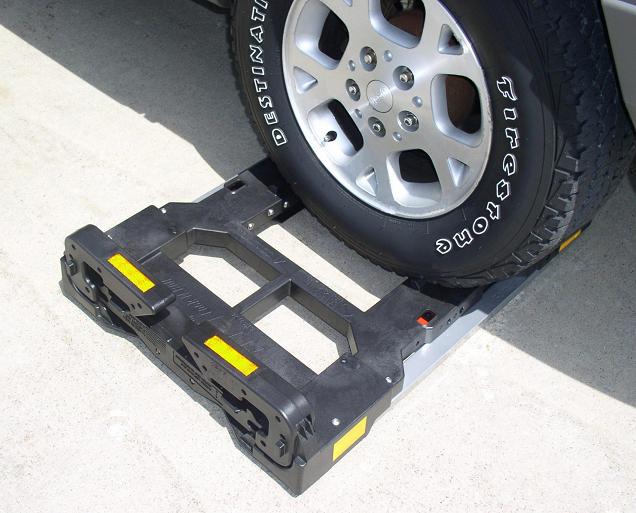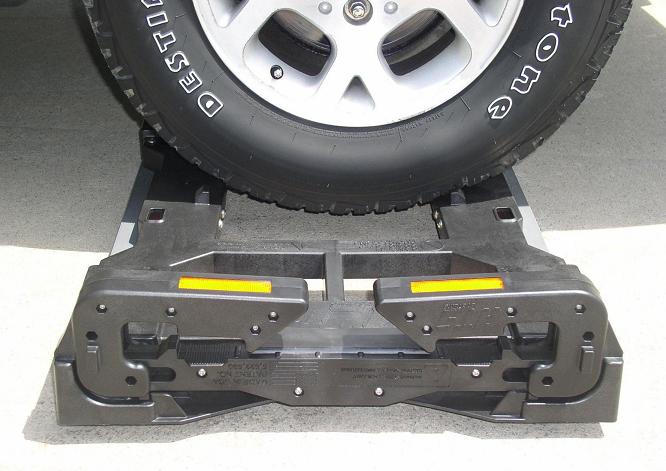 The HTS Ultra-Rack is manufactured from advanced light-weight high impact nylon polymers. The HTS-10T is strong enough to support the vehicle weight of a medium size SUV without damage!
---
What's behind the HTS Ultra Rack rear cover plate? Take a look inside.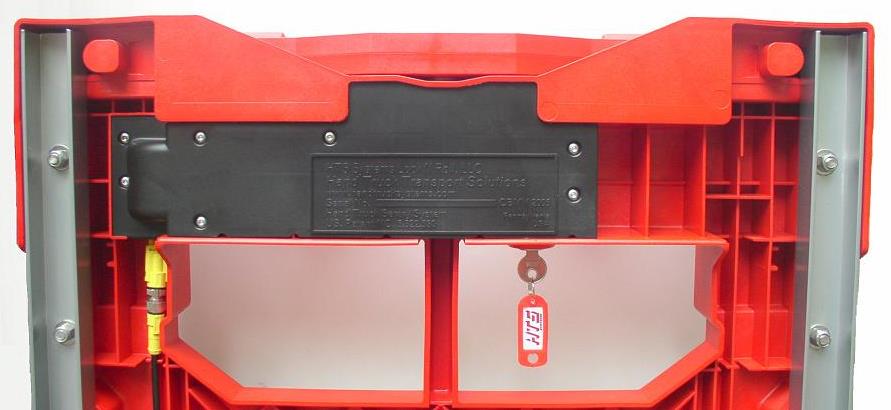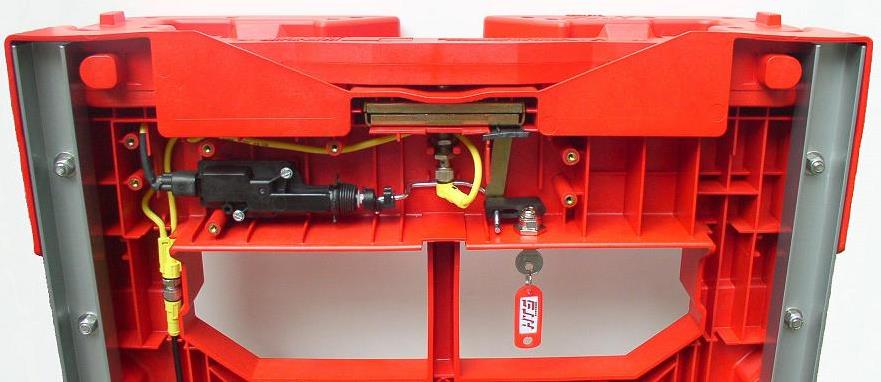 Remove the cover panel and you'll find seven internal components. The first electrical component (left to right) is the heavy duty solenoid used to activate the main latch.
The electrical wiring harness and yellow Y-Splitter are shown and the metal linkage wire that connects the solenoid to the latch lever is visible. The main Trimark double
rotor latch and the inductive proximity sensor are centered within the component housing. The nylon oval linkage connector and the manual override key cam are shown
on the right side of the component housing floor. All of the HTS electrical and mechanical components are all weather parts and designed for automotive applications.
When designing the HTS Ultra-Rack our engineers didn't re-invent the wheel. They selected from the most rugged and reliable truck components in the automotive industry!
Where do I mount the HTS LED dash release switch? Mount it under the dash board, inside the dash panel or center console or other interior locations.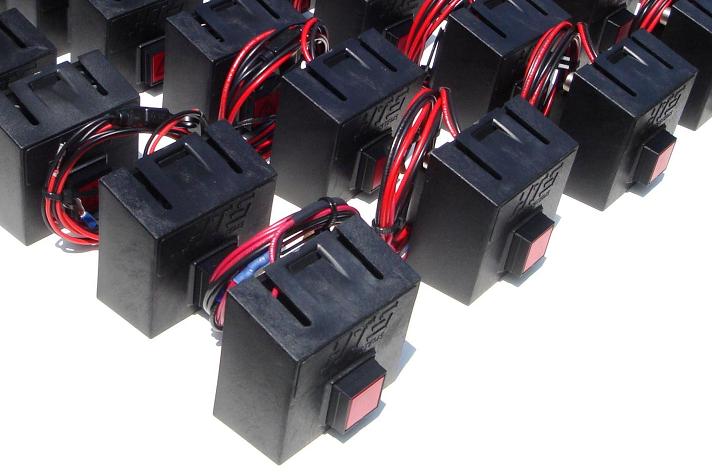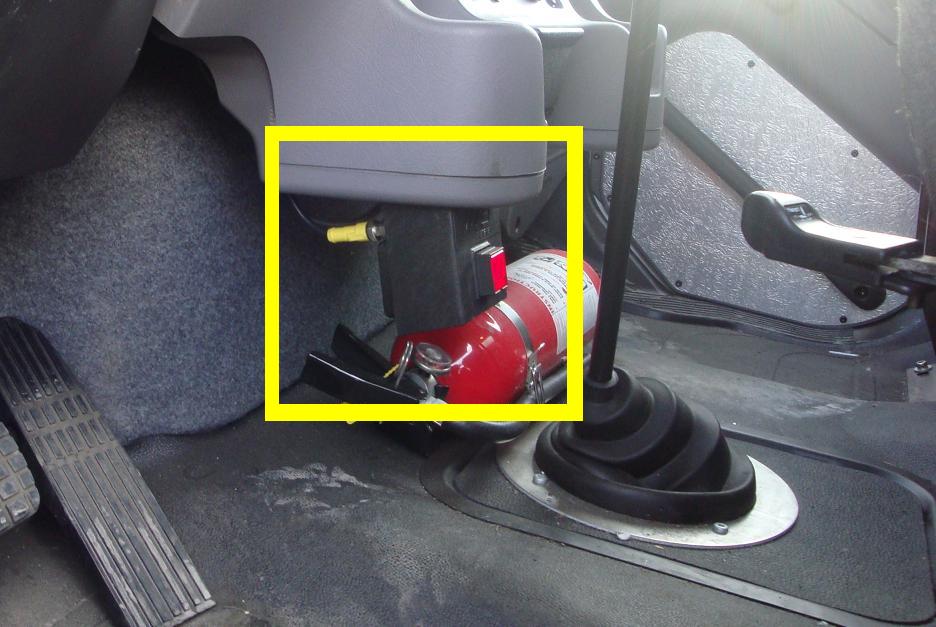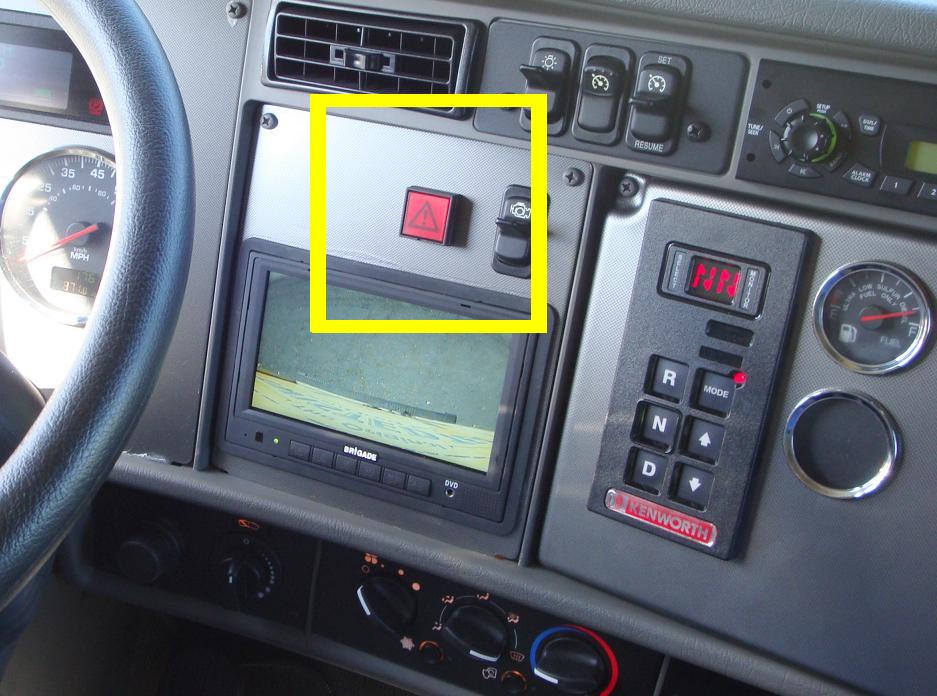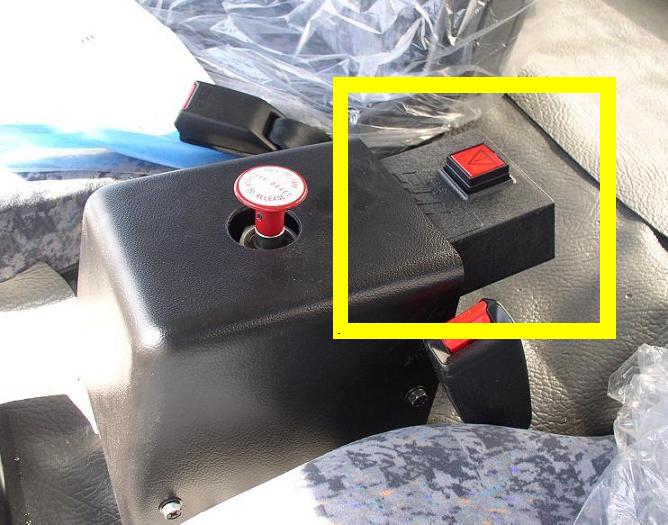 HTS LED dash release switch mounts under the vehicle dash board. HTS LED dash release switch also installs inside the dash panel. HTS LED dash release switch can mount to center console.
---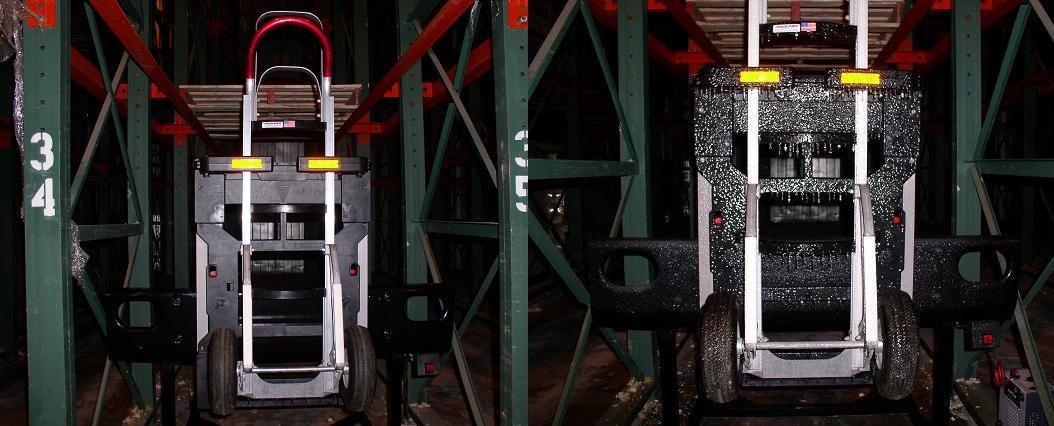 The HTS Ultra-Rack has performed over the road in ambient temperature ranges of -15°F to 101°F for more than a year! This HTS-10T Tilt Mount unit pictured above and below was placed into
a refrigerated environment for deep freeze and ice testing at -10°F or 23.3°C for 6 days of adverse cold weather testing.



The HTS Ultra-Rack performed extremely well in dry cold tests and layered ice testing! These conditions simulate some of the winter climate conditions
found on customer route delivery vehicles. Conditions may vary, depending on adverse weather environments and sub-zero temperatures. In steady
Winter climates we recommend cleaning road dirt by lubricating unit with silicone spray and applying silicone grease in HTS Push-Bar rails every 4-6
months to prevent sticking. The HTS units are assembled with stainless steel fasteners and super tough high impact polymers that will not rust or
corrode like conventional steel brackets or metal hand truck retaining frames.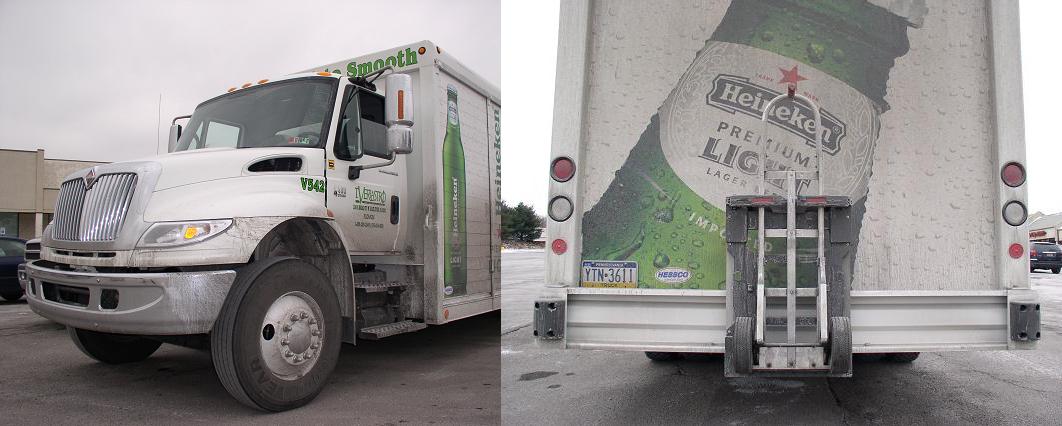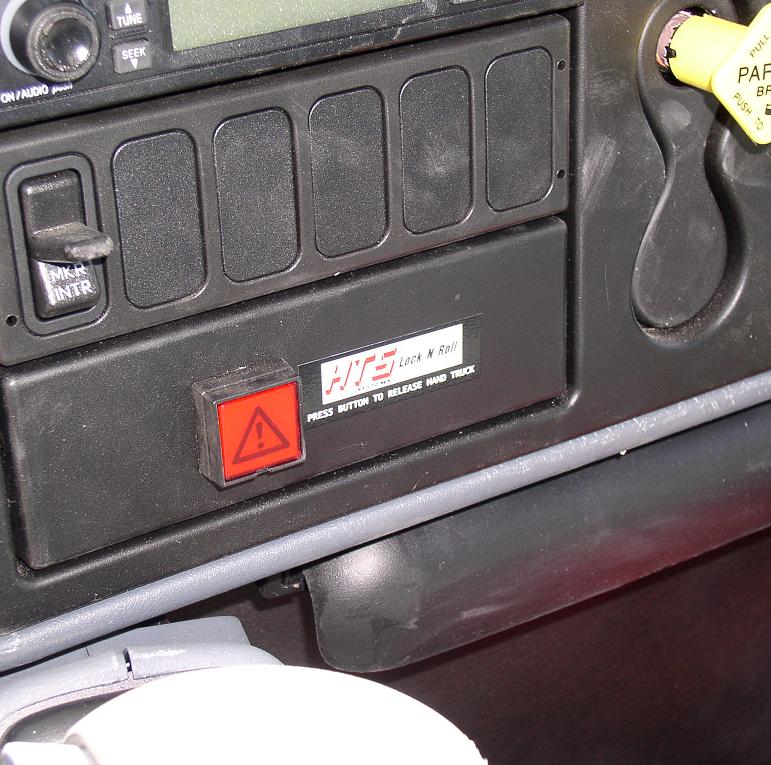 Images courtesy of T. Verrastro Beverage Distributors - Hazelton, PA and Hessco Beverage Bodies - Kulpsville, PA / 12°F - Jan. 2007 LT Verrastro Coors Distributing - Scranton, PA. 03-2007
The Hand Truck Sentry System operates well in heat, rain, sleet, snow and cold weather temperature environments where salt and dirt conditions are
typical on the rear or front of route delivery vehicles during the Winter season. This HTS-30D Direct Mount in 12°F will rinse clean with rain water or
soap water solution.
---
What are the shipping box dimensions, the size and weight of the Hand Truck Sentry corrugated shipping carton when shipped?
The HTS-10T and HTS-30D shipping carton is 35" X 24" X 7" inches and weighs approximately 23lbs. or 35lbs. when an HTS adapter plate kit is also enclosed.
The HTS-20S carton is 44" X 26" X 10" and weights approximately 55lbs.The HTS-20S Swing Mount is shipped in two pieces or two separate shipping cartons.
The HTS-40DT Trailer Direct Mount carton is 35" X 24" X 7" and weights approximately 43 lbs. The shipping cartons comply with a parcel carriers and freight haulers
corrugated wall certifications. The package total weight complies with UPS Ground and FedEx Ground deliveries. Most standard HTS adapter plate kits can be shipped
within the same shipping container and the adapter kit with fasteners and hardware is an additional (10 lbs.) ten pounds to shipment. Please consult your HTS Systems
distributor for additional shipping information. HTS Systems and fleet customers are permitted to use their own freight shipping accounts.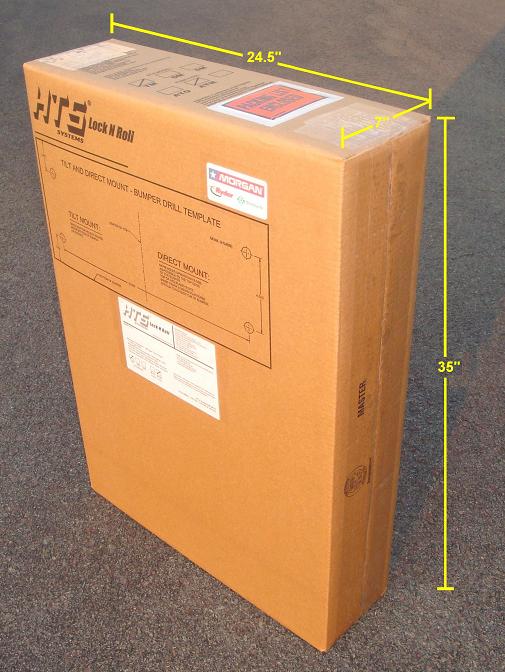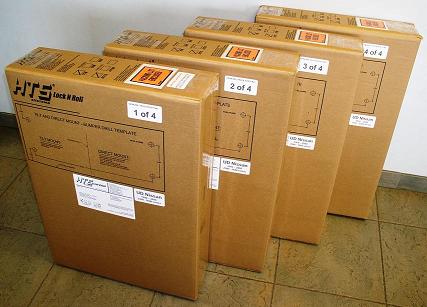 HTS-10T shipping cartons are 35" X 24" X 7" inches - weigh 25-35 lbs. HTS-10T Tilt Mount and HTS-30D Direct Mount Ultra-Rack shipping cartons shown above and ready for parcel delivery.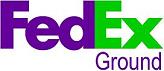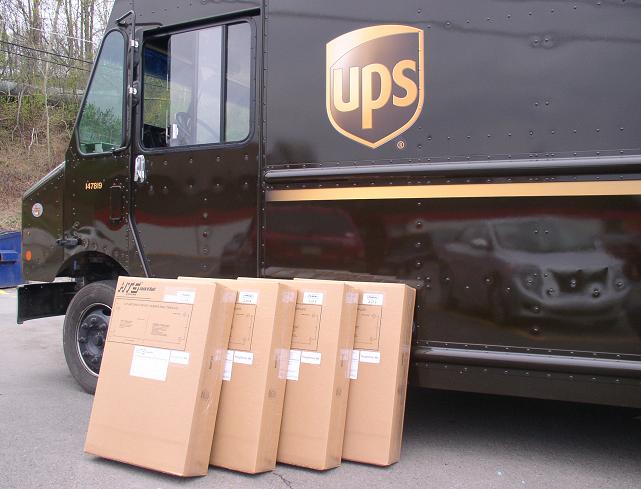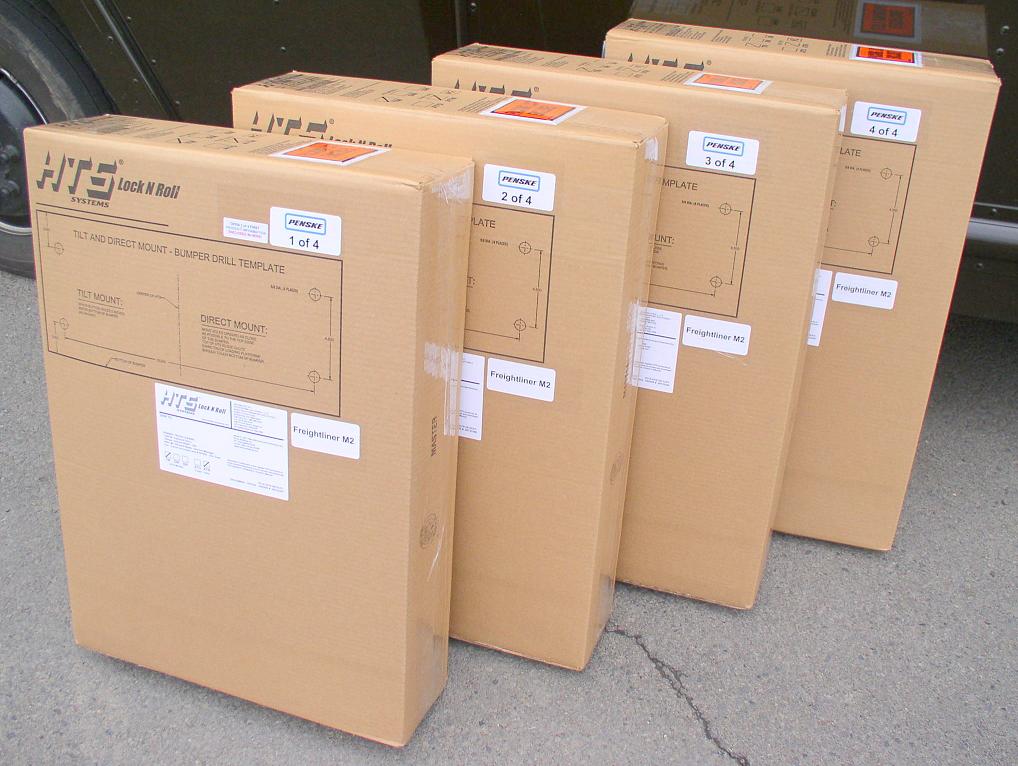 UPS Ground shipments commonly delivery within 6-7 business days - shipping costs $35-$45 each. HTS-10T Tilt Mount Ultra-Rack units shipping to Penske in Phoenix and Tempe Arizona.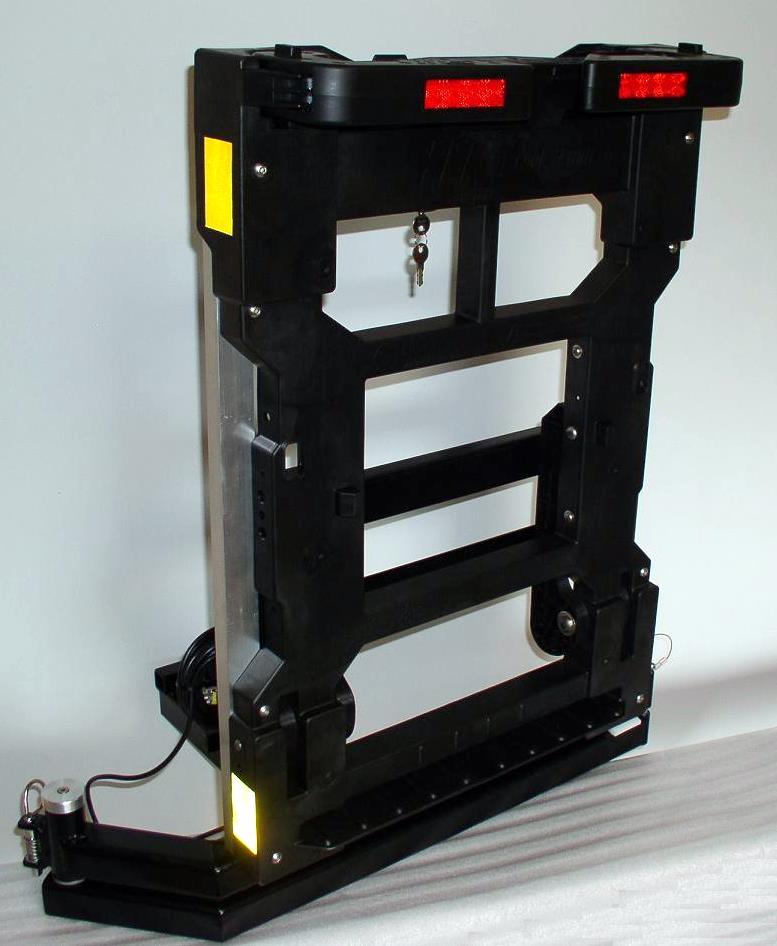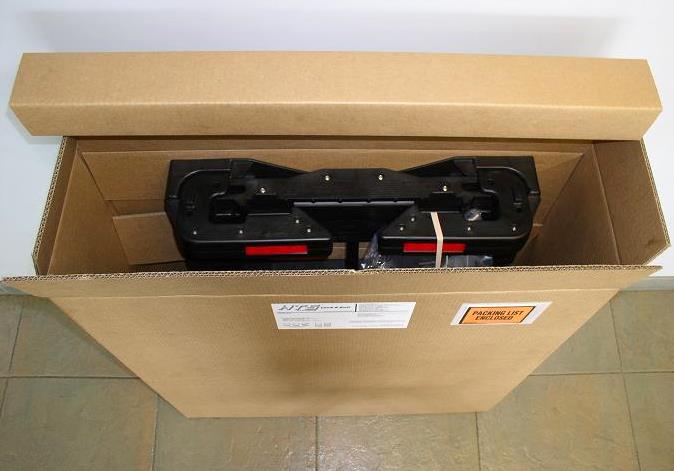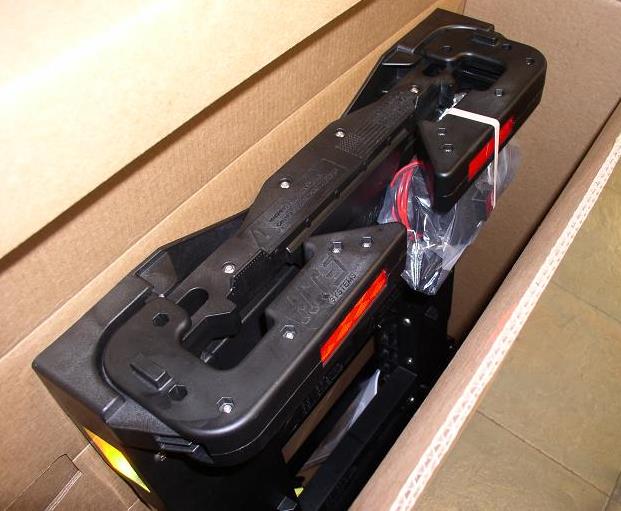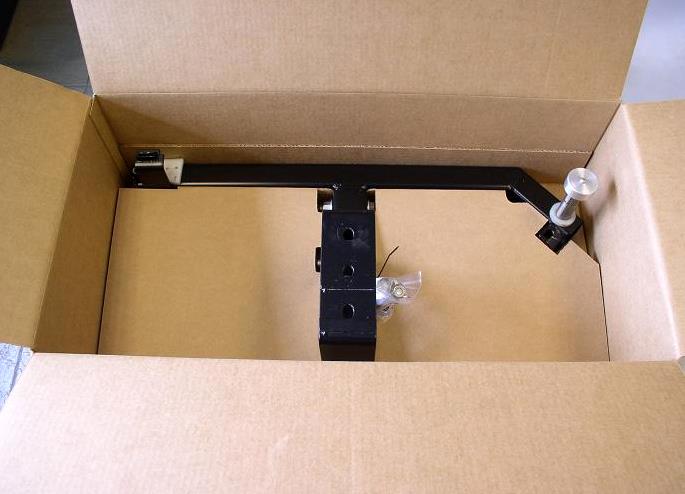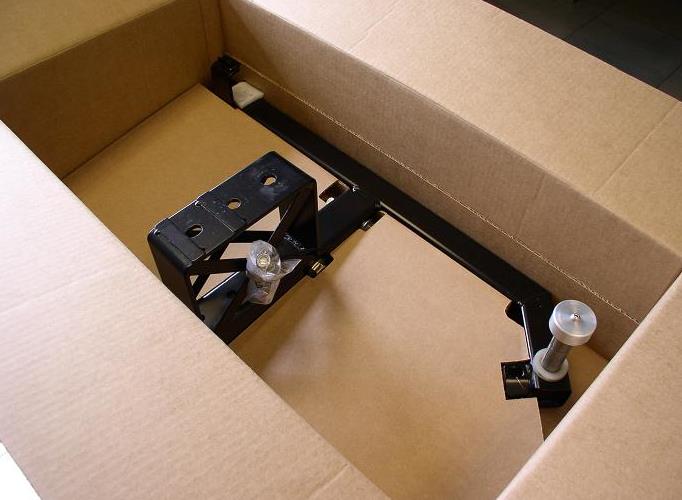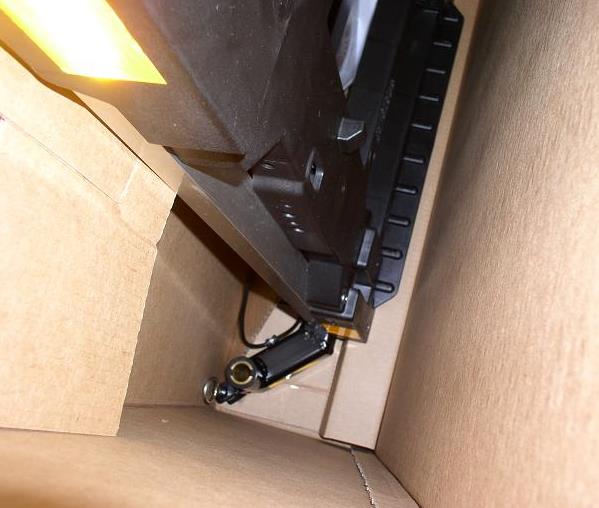 The HTS-20S Swing Mount Ultra-Rack is shipped in two separate cartons. The photos above show both the HTS-20S upper assembly and lower (vehicle attachment frame) sub-assembly cartons.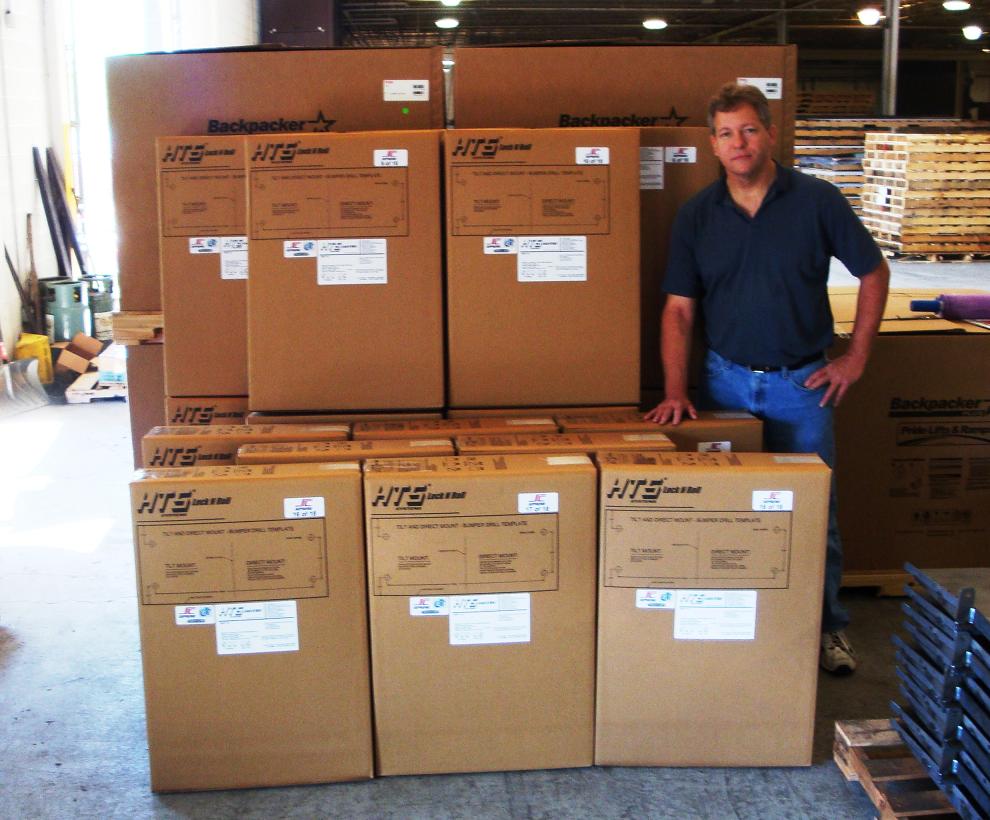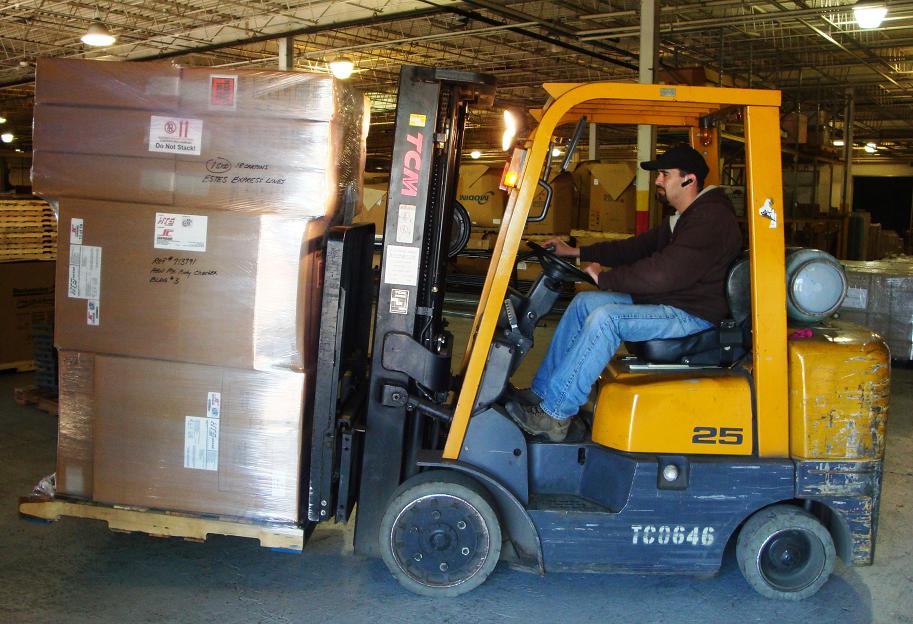 HTS-10T Tilt Mount Ultra-Rack units ready for shipping at JCM Manufacturing. 5-2012 HTS Systems pallet load order of 20 Hand Truck Sentry System units for our fleet customers in Indiana.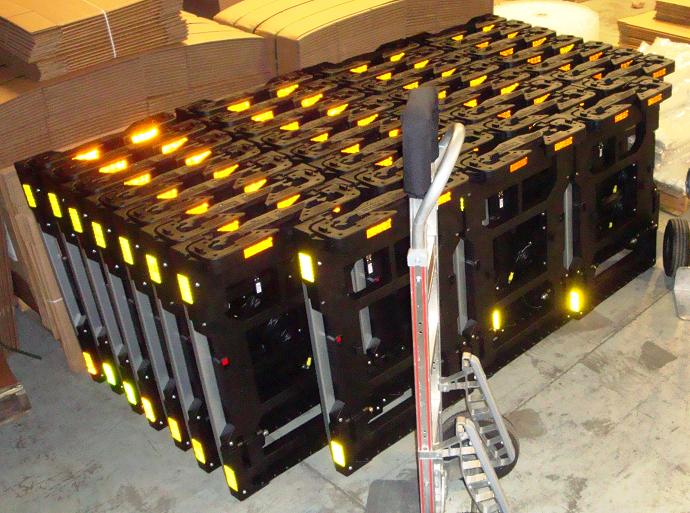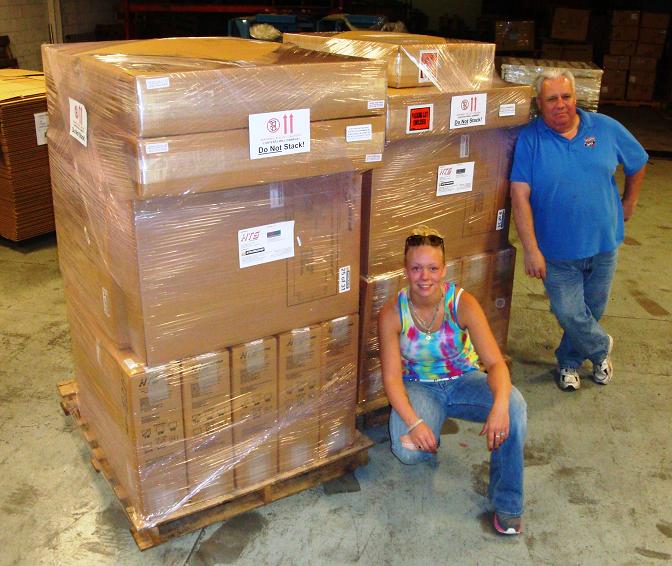 The HTS Ultra-Rack units are compatible with most popular commercial aluminum hand trucks. 06-12 Two pallet order of HTS-10T Hand Truck Sentry System units ready for shipping. 06-2012
---
Images courtesy of rhino's energy drink - Austria /Atlas Distributors, Inc. Image courtesy of Penske Truck Corp. - Shillington, PA. /Canada Dry-Royal Crown Cola and Freightliner - Portland, OR.

Penske Truck - Freightliner M2 Business Class Beverage Truck in Winter snow and ice storm. Temp. 9° 12-07

GMC Truck C7500 Series dash interior with HTS-10T / Ultra-Rack dash release switch. rhino's energy The HTS Ultra-Rack release switch and LED

indicator light can be installed under or inside the dash area. Navistar 4300 DuraStar interior dash shown with HTS Ultra-Rack release- indicator

switch OEM installation.
---
How can my company benefit from using the Hand Truck Sentry System?

Where do we start!! There are so many individual and combined benefits from our HTS products, it is much easier to list them. The savings and benefits are substantial

and week after week it will continue to increase and protect your company's bottom line!

Faster Route Deliveries Highway Safety Driver Safety

Reduce DOT Fines

OSHA Safety

Prevent Vehicle Damage Labor Savings Insurance Savings

Driver Convenience

Avoid Lawsuits

Increase Cargo Space Fuel Savings Reduce Fall Injuries Reduce Back Injuries Hand Truck Replacement Cost

No Retrieving/Back Tracking Reduce Claims Damage Theft Prevention and Loss On Time Deliveries Reduce Workers Compensation

Reduce Product Damage Reduce Door Wear Reduce Climbing and Digging Prevent Hand Injuries Enhanced Ergonomics

No Padlocks and Chains No Rubber Straps or Cords Eliminate Physical Impact Reduce Liability Issues

Comply with DOT Safety Laws
---
It's time to d
iscover what the Beer, Soft Drink, Freight and Battery industry have known for years! Having your hand truck readily available on the
exterior of the vehicle offers many ergonomic, productivity and safety advantages, as it provides a powerful list of payback benefits. Now you can do it
safely and you're guaranteed to save route time, reduce lifting, climbing, reduce falls, increase cargo space and prevent worker compensation injuries.
We can't stress enough; that if you're using rubber straps, bungee cords, cables, chains or any type of flexible tie-down method to secure your hand trucks aboard the
exterior of your delivery trucks; PLEASE STOP IMMEDIATELY! We have seen the highway accidents, the property damage and the physical injuries. Your own insurance
company can also verify and document our findings. It takes more time and it involves more lifting, reaching and climbing, if you don't have an HTS Ultra-Rack. If you don't,
by all means, safely
secure your hand truck within the cargo area. (as required by DOT safety regulations) Regarding Safety & Ergonomics, In the Delivery Vehicle,
an internet web site, public statement from Magline, Inc. manufacturer of Magliner hand trucks. "To avoid accidents and prevent damage to your hand truck, always make
sure to fasten it securely inside your vehicle with a strap or other device." If you're storing the hand truck inside the vehicle, we couldn't agree more! It's a safety hazard
and a DOT safety violation if you don't comply. Your driver could be cited and fined for not securing their hand truck! Many delivery companies are unaware of these vital
Department of Transportation (inside storage) safety requirements. It's true the exterior of the delivery vehicle is a superior location, a more ergonomic method for storing
and transporting your hand truck; if you do it safely!
Make it a safer place out there for everyone, by ordering your new Hand Truck Sentry System today!
---
What information is provided by you to help us process your HTS order?

1. What type of delivery vehicle are you installing your HTS unit on?

Beverage Body (side-loader), Box Van, Parcel Van, Armored Car, etc.

Vehicle (chassis) manufacturer, body manufacturer, model and year.

2. Where would you like to install your new HTS unit on your vehicle?

Front of vehicle installations use (Tilt Mount) HTS-10T Rear of vehicle

installations use (Direct Mount) HTS-30D or (Swing Mount)

3. What type of fuses or electrical fuse box does your vehicle use?

Is your new truck designed with a Multiplex wiring system?

ATO-Standard fuses or the (newer) ATM-Mini fuses

ATO-Standard fuse and ATM-Mini fuse

4. What is the length of your vehicle body? (Rear Mounts only)

Some rear installations may require a Micro-cable extension harness.

Vehicles with 10-12 Beverage Bay, Step Vans, Sprinter Vans or larger

commercial vans usually require a 20' ft. 30'ft. or 40'ft. Micro-cable.

Front mount HTS installations do not require an extension harness.

5

. Is the mounting surface area of the vehicle bumper vertically straight

and flat?

Some vehicle bumpers (front and rear) are designed with contours or

air vent openings stamped into the front surface area of the bumper.

This may require an HTS adapter plate or our free HTS shim kit to

properly mount the HTS unit.

6

. If you do require an HTS Ultra-Rack metal adapter plate, are you

bolting or welding?

Simply match the adapter plate (metal alloy) to the vehicle bumper

alloy. Select the steel plate for steel bumpers or the aluminum plate

for aluminum bumpers. Both HTS bumper adapter plates come

pre-punched, air vented and ready to bolt or weld.

The HTS Adapter Plate mounts to the front of most truck bumpers

using (4) Stainless Steel fasteners and HTS custom spacer kit.

The HTS standard adapter plate is designed for most truck chassis frames.

The adapter plate kit includes stainless steel fasteners and spacers.

The HTS high position adapter is designed for low chassis frames and trucks

with low profile tires. Many cab-over trucks also use the high position plate.

HTS-30D-MB rear mount adapter plate for Mickey Beverage Bodies. Requires no welding or slot.

The HTS Kenworth T300 adapter plate is installed behind the bumper

HTS-10T Tilt Mount (front install) DHL Yellow HTS-30D Direct Mount

The HTS is designed to transport most commercial hand trucks.

The HTS-10TF adapter plate shown above is designed for the front of Ford F150 F250 and

F350 pickup trucks used for commercial deliveries. The HTS-10TF adapter plate is

designed for Ford F Series pickup trucks 2009-2011. The HTS-30DM adapter plate shown on left is designed for the rear of Mickey Beverage Bodies and bolts directly

to the rear bumper area. The HTS-30DM is a high position adapter plate that allows the HTS-30D Direct Mount Ultra-Racks to be installed higher than the rear bumper

and without the need of cutting a slot into the bumper for the hand truck load plate.

HTS-30DM is a bolt on, powder-coated steel, high position adapter plate for Mickey Beverage Bodies. All HTS adapter plate kits include 1/2" stainless steel fasteners.

Mickey side-loader beverage body with HTS-30DMB rear mount high position adapter plate.
---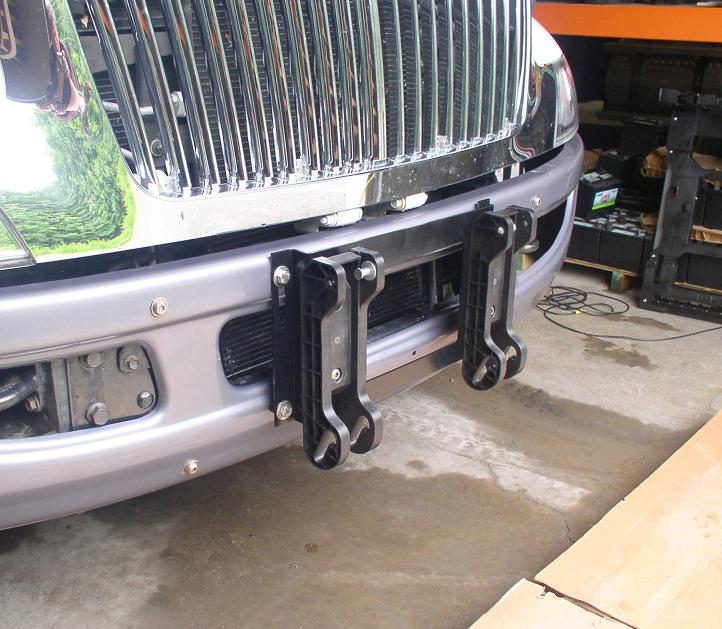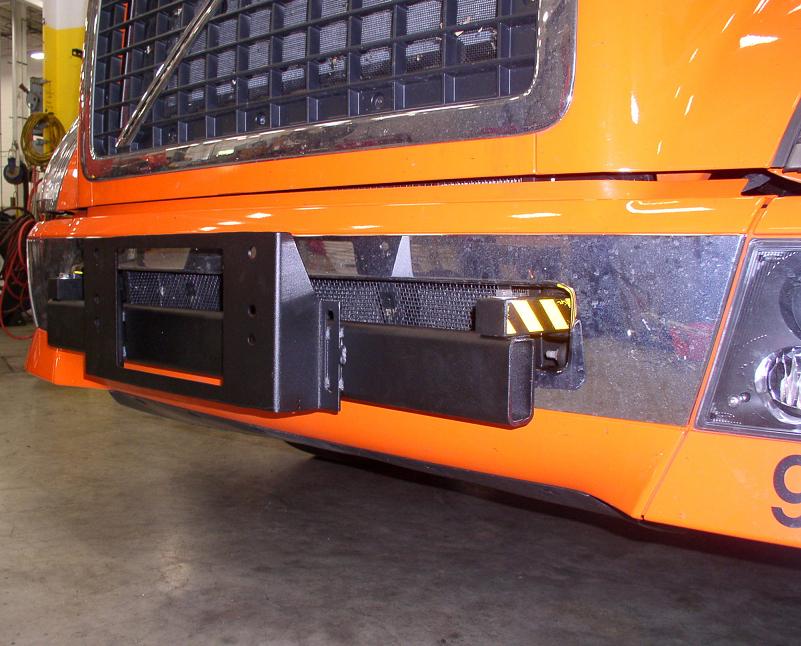 HTS-APS Standard Adapter Plate with HTS bumper mounts - International Navistar bumper. HTS-IAB-V Insert Adapter Bar - Volvo Truck application - For fiberglass or plastic bumper designs.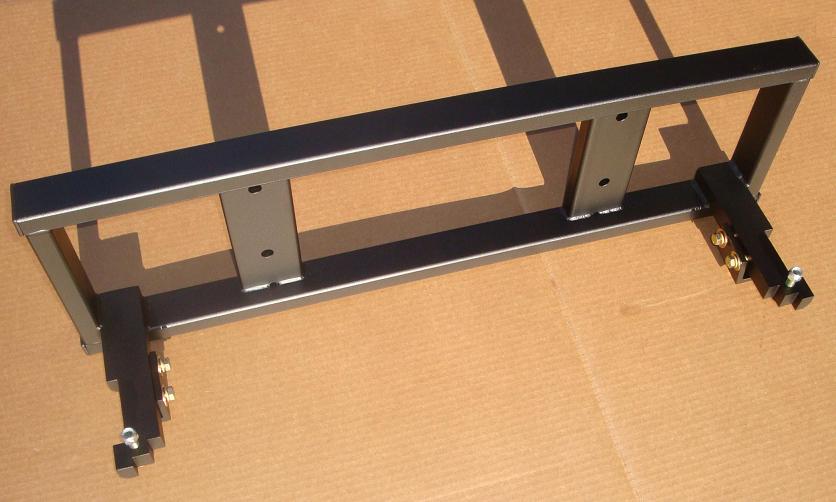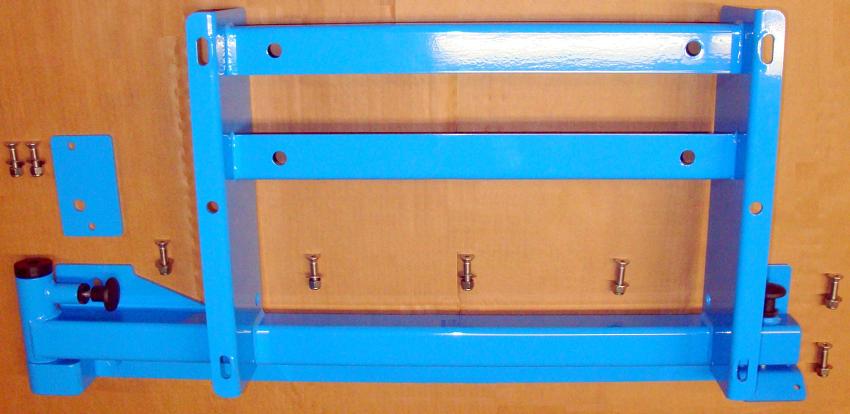 HTS-APF180 adapter frame kit for Mitsubishi Fuso Canter F180 F160 F125 chassis. HTS-20S-TD Taylor-Dunn sub-assembly mounting brackets for Taylor-Dunn electric delivery vehicles.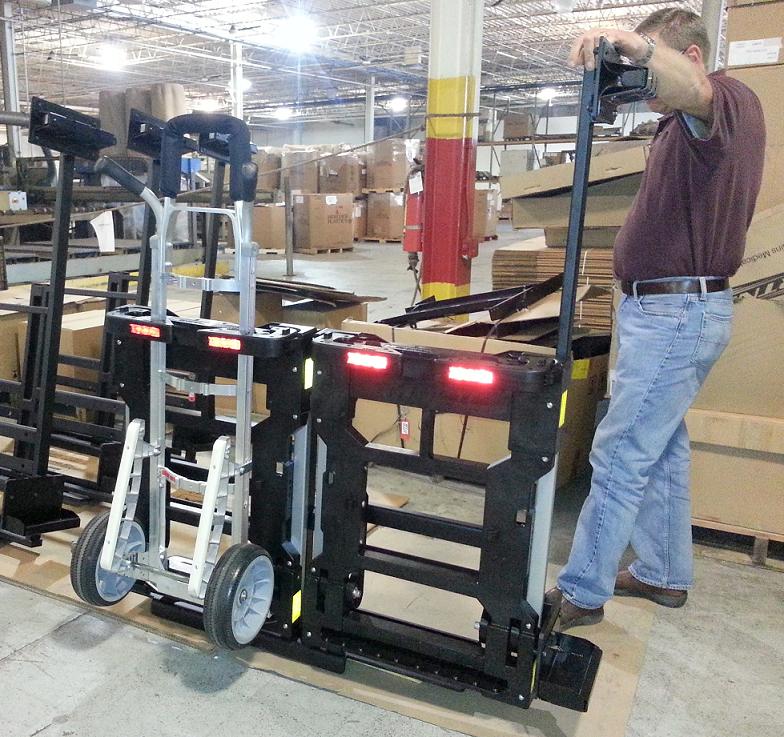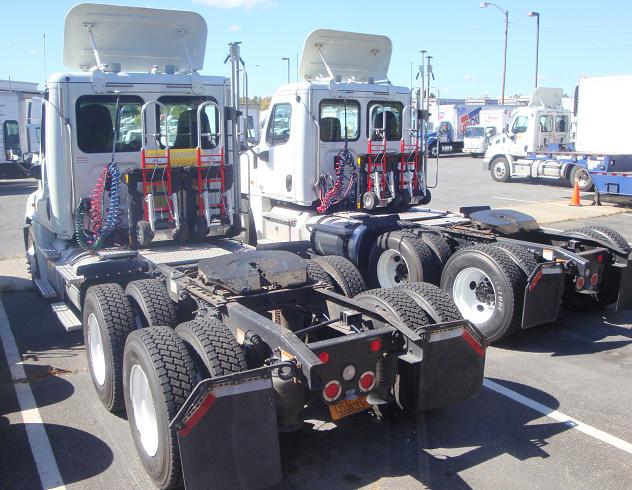 HTS-30DTF-2 semi tractor HTS Ultra-Racks ready for McLane Ryder Freightliners. McLane Distribution Services Ryder System Freightliner Cascadia day cab tractors with HTS-30DTF-2.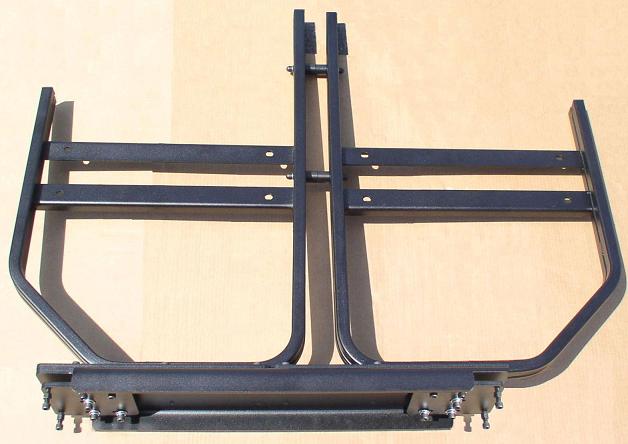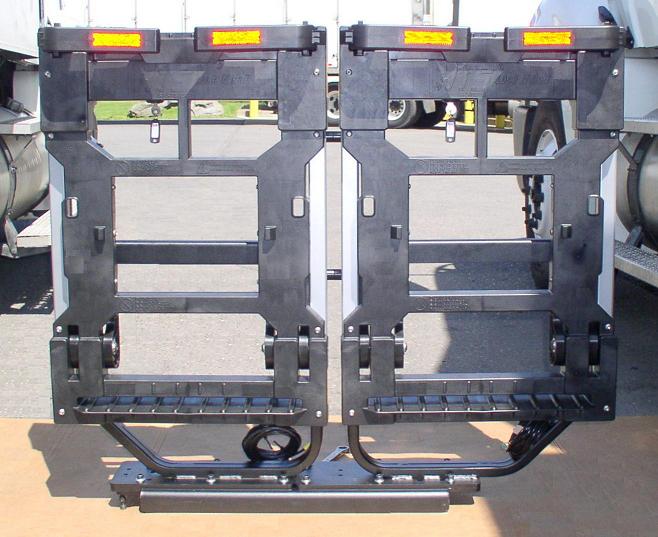 HTS-30DTF tractor mounting frame for installing to chassis C channel; designed for most semi tractors. Two (2) HTS-30D Ultra-Rack units mounted to HTS-30DTF, installed behind tractor cab.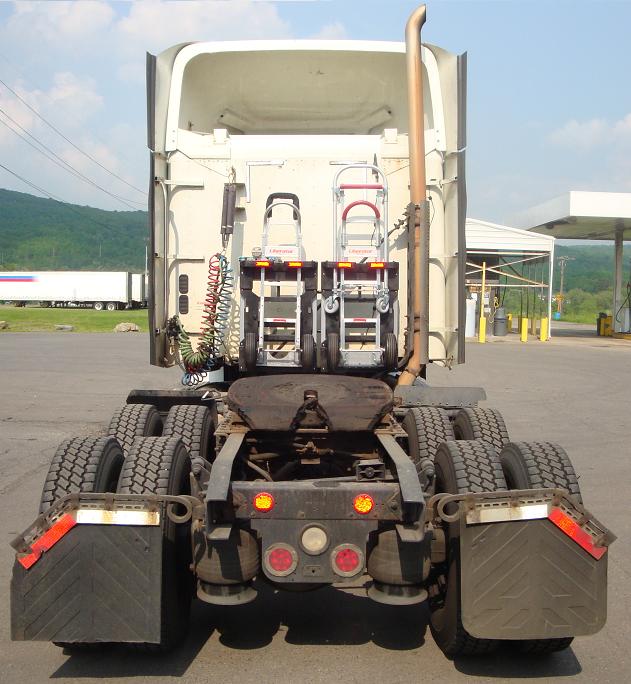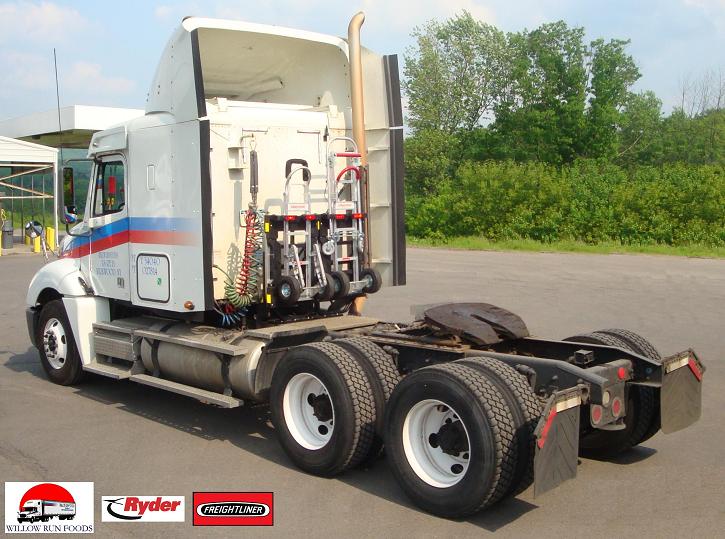 HTS-30DTF Ultra-Rack tractor chassis frame with two HTS-30D Ultra-Racks. Willow Run Foods Ryder Freightliner Columbia tractor with HTS Systems' new HTS-30DTF Ultra-Rack frames.
---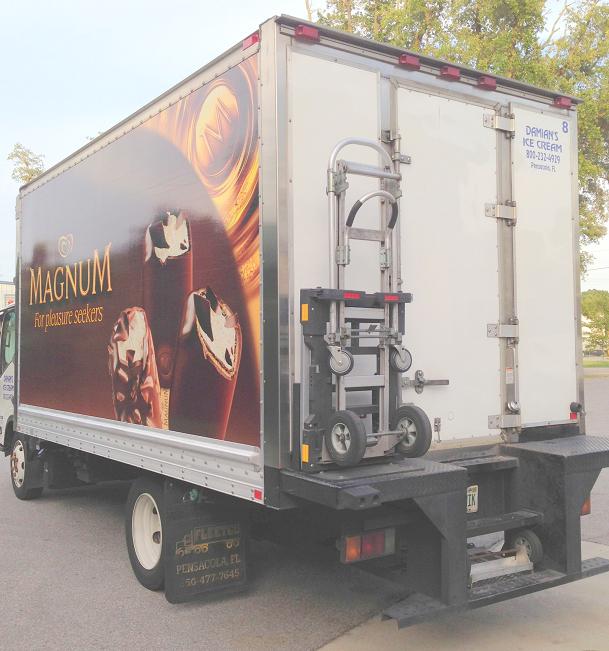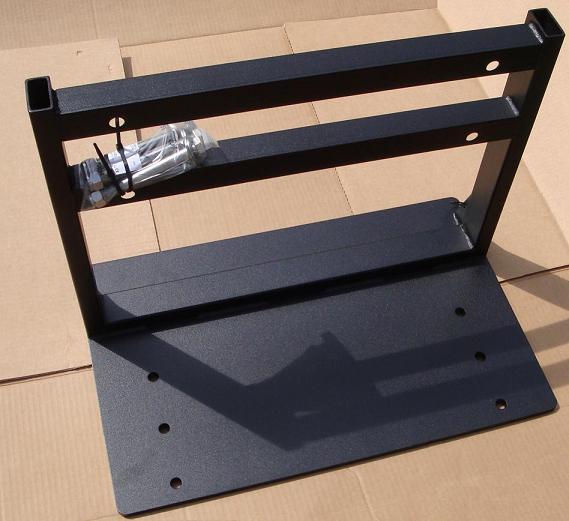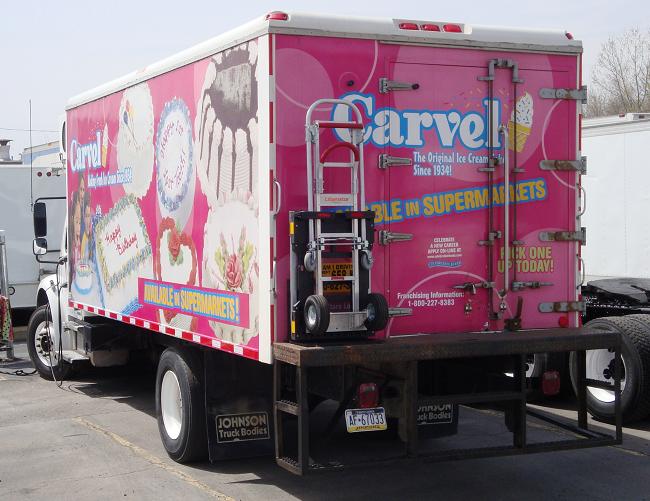 The HTS-VDM (vertical deck mount) bracket is designed for 18"-20" rear deck bodies. HTS-30D unit attaches to the HTS-VDM bracket. For deck platforms with center or side step bumpers.
---
HOLD THE COLD! FUEL SAVINGS $$$ WHEN NOT TRANSPORTING A HAND TRUCK WITHIN REFRIGERATED TRUCK BODIES
The final return trip back to the truck before departing can be the most important measure when trying to retain temperature! The route driver would normally be engaged with having his
order checked in by the customer, rotating and stocking their inventory within the freezer or cooler, signing bills or receiving payment. This time can average 10-15 minutes. It's ample time
for most electronic thermostat controls or refrigeration systems to recover their safe operating temperature and properly shut down. When route drivers exit the building they need to reload
their hand truck aboard the vehicle. Opening their freezer door, pulls the cold air outward and closing the door pushes the warmer air inward. This action causes major temperature loss!
Refrigeration companies informed us that if the ambient temperature is 75-80° degrees or above, this would cause the reefer system thermostat to recover for approximately 5-8 minutes.
Eliminating a 5-8 minute cycle time X 20 stops per day would save a minimum of 100 minutes of reefer time per day. Refrigeration manufacturers informed us that most refrigerated systems
use a gallon of diesel fuel per hour. A fuel savings of 1.5 gallons per day X $4.25 per gallon. A savings of $6 dollars per day or $30 dollars per week or $120 per month, per delivery vehicle!
---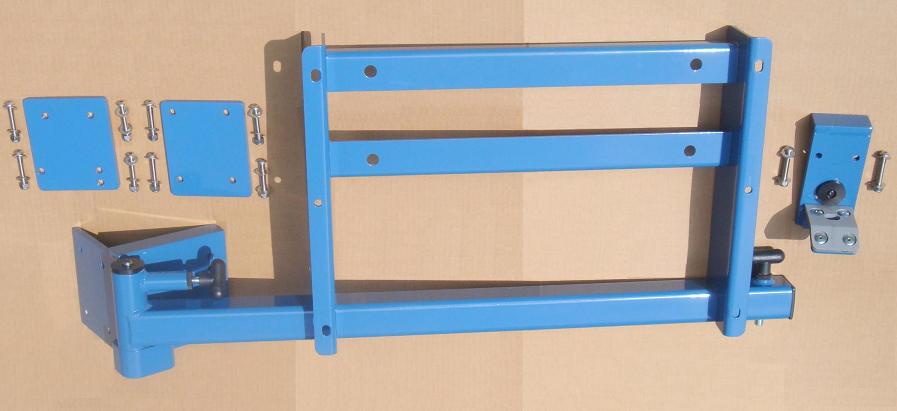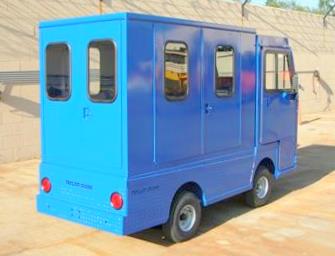 The new HTS-20S-TD Swing Mount frame is designed exclusively for the rear of Taylor-Dunn electric delivery vehicles

.

Chevron's Taylor-Dunn model B-248 48V GT electric mail vehicles.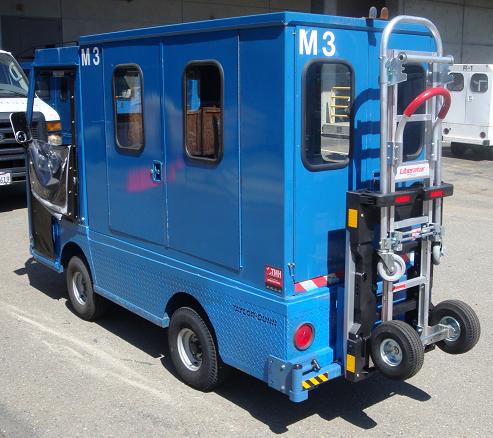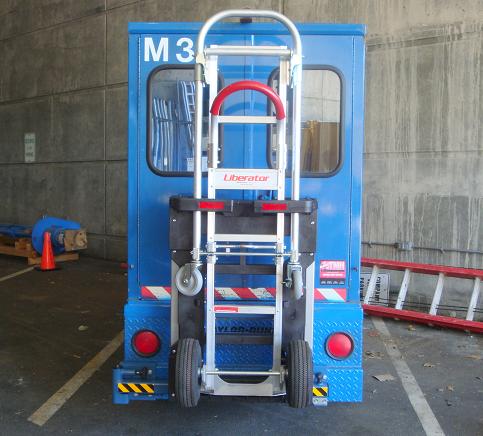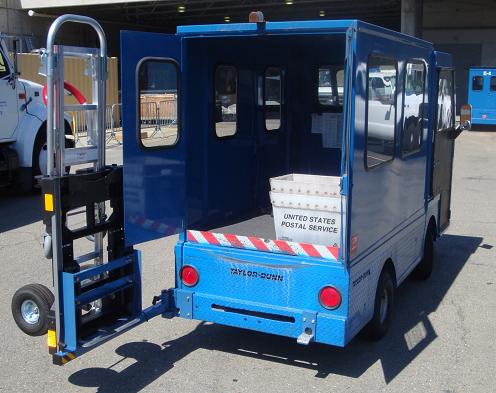 HTS-20S-TD Ultra-Rack can transport the Senior or Junior convertible platform hand trucks. Access the rear cargo doors quickly, without having to unhook and remove the hand truck.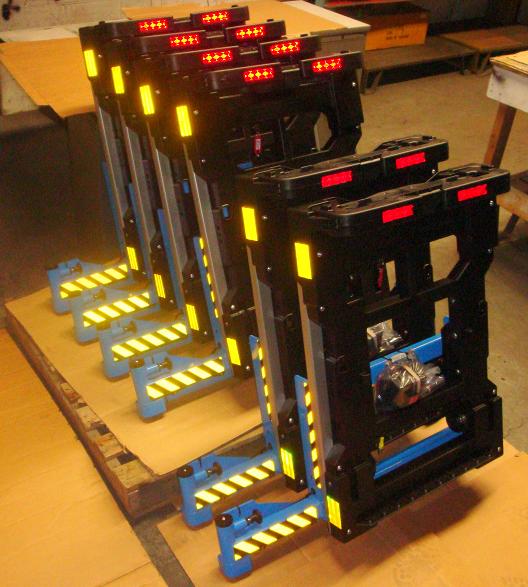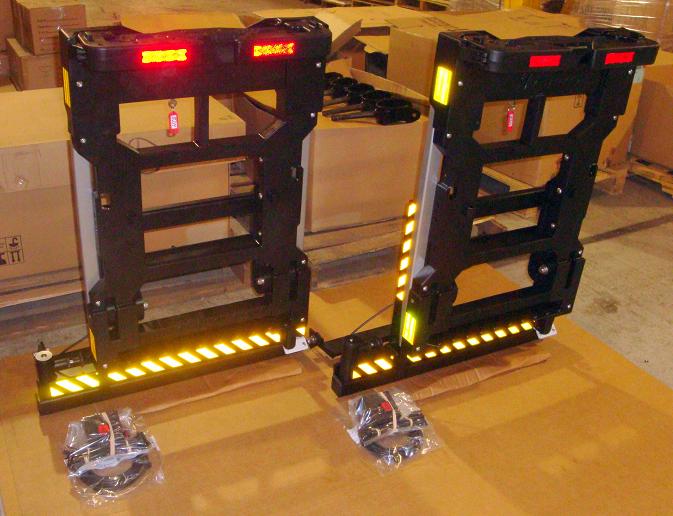 HTS-20S-TD Ultra-Racks for the Taylor-Dunn B248 and ET-150-74 Electruck. HTS-20SFT Swing Mount Ultra-Racks designed for the Ford Transit Connect commercial mini cargo vans. 07-13
HTS Systems' HTS-20S-TD Ultra-Rack equipped on Taylor-Dunn Manufacturing Company ET-150-74 Electruck. HTS-20S-TD is compatible with the B-248 GT and ET-150-74 chassis TD models.
---
Please have your vehicle information, shipping address and credit card readily available when placing your HTS order by phone.

We will

direct you to an HTS distributor in your local

area

, if one is available. Please make all credit card or check payments to the

directed distributor and not HTS Systems. For all direct sales, areas without a local HTS distributor, please write all checks or money

orders to HTS Systems Lock N Roll, LLC. and mail to our address on our web contact page. Remember credit card transactions process

quicker and personal and company checks will delay shipping and receiving.

We appreciate your

patience and t

hank you again for your HTS Ultra-Rack Hand Truck Sentry System order.