---

n The total US. consumption of new hand trucks in 2003 was 2,879,565 units!
n Finished hand trucks sold in United States in 2004 was valued over $80 million dollars!
n
Modular hand trucks, including replacement parts brings this total to over $100 million dollars!
n
Hand trucks that fall from a moving vehicle can cause accidents, injuries, liability, fines, lawsuits, legal fees and settlements!!
n A delivery driver can lose over two minutes of route time when unloading (lowering) and reloading (lifting) their hand truck
into the rear of a box van commercial truck! After the delivery the driver completes his delivery, he must walk back to the
rear of the vehicle, unlock and reopen the rear door, lift the hand truck inside, close the door and latch it safely closed.
n
Rubber straps often slip or break; bungee cords are not DOT approved.
n It is dangerous and a DOT safety violation to transport a loose hand truck within the cab area.
n Drivers have been injured from impact and falls when the hand truck is not secured properly!
n
Hundreds of hand trucks are lost, stolen and damaged every day; worldwide!
n
Flimsy or loose restraints can cause expensive truck body damage to grills, body panels and decals.
n
Most common hand truck retaining methods require the use of both hands and have caused hand injuries.
n
Hasp systems and twist bars usually require rubber straps or cords to reduce vibration and wear.
n
Aftermarket bar hasp systems, pin restraints and chains all require padlocks to stop theft.
n
Padlocks require keys, additional time to open and close and often freeze-up in adverse weather.
n Securing the hand truck safely to the delivery vehicle can save a minute or more per stop; than climbing,
unlocking, reopening the cargo doors, lifting, closing and relocking the cargo doors.
n
Hand trucks that are stored and transported in the cargo bays can cause early wear to doors and rollers.
n
Drivers will back-track off and drive several miles off route to retrieve their forgotten hand trucks.
n
The average delivery
driver will forget their hand truck 6 - 8 times per year.
n
Many drivers become distracted and sometimes run over their hand truck.
n
Hand trucks can take up valuable floor and cargo space and block access to storage shelves.
n A hand truck transported inside is delivery vehicle is a payload loss of 240-300 cubic feet per month.
n
Parcel delivery drivers constantly shuffle their hand trucks side to side to reach parcel shelves.
n UPS purchases an average of 13,000 new hand trucks every year. Most are not old or worn and many
are stolen, forgotten, lost or damaged.
n An unsecured commercial hand truck will constantly damage fragile parcels and beverage products.
n
Mud and snow covered hand truck tires can contaminate food products, medical supplies and paper
products, causing thousands of dollars in insurance claims.
n The Frozen Food Distributors waste valuable cargo temperature, fuel and route time when having to reload the hand truck
back into the refrigerated cargo area before departure.
n Warm metal hand trucks stored with cargo can act as a heating element and trigger thermostat controls to turn on reefers?
n Frozen Food Service companies storing hand trucks in the freezer area causes the aluminum load plate to become brittle,
fatigued and breakable! Hand truck nose plates become broken or cracked when bouncing from the freezer to the ground.
n When a box truck backs up to a loading dock and the driver places the hand truck outside the cargo area to allow a forklift or
pallet jack to move a pallet, 45% of the time the driver will forget to reload the hand truck aboard, leaving it miles behind.
n
Medical waste removal companies have contaminated physician waiting room floors by transferring hazardous bacteria from
the hand truck tires! Medical waste bags contact the sharp edges of the hand truck during travel and tear open.
n
Armored guards experience security breach problems when unloading and reloading their hand trucks.
Their line of sight is obstructed, both hands are required to load the hand truck and their back is turned and facing outward.
n Armored Car companies unnecessarily open their vehicle's vault door thousands of times per day just to access their
hand truck before making a pick-up. The HTS Ultra-Rack can reduce Armored Car open door time by 50% percent.
n Snow melts from the hand truck tires causing wet and slippery floor surfaces and corrodes metal interior floors.
n
The HTS Ultra-Rack / Hand Truck Sentry System can solve all of the above and is guaranteed to substantially enhance the
efficiency, safety and every day it increases the profitability of your delivery operations!
---
Liberty Mutual Insurance Company surveyed many companies for their views on workplace safety. Ninety five percent of businesses report that
workplace safety has a very positive impact on a company's financial performance. Sixty one percent of these companies indicated their companies
received $3 or more for each $1 spent improving workplace safety. View the Liberty Mutual Safety Index report by clicking Adobe PDF link below.
Liberty Mutual Safety Index PDF
Overexerting the body by manually lifting, lowering and throwing hand trucks from the vehicle can often lead to MSD (Musculoskeletal
Disorders). When ergonomic methods are applied in the workplace the risk of an overexertion injury is reduced, which can reduce workman's
compensation, insurance claims and increase company profits.
---
The HTS Ultra-Rack Hand Truck Sentry System quickly pays for itself while it increases the efficiency, the safety and the profitability of your delivery system by:
● Reducing the time of each and every delivery stop by increasing the ease of access, storage and retrieval of the hand truck, consistently reducing labor costs.
● Reducing the liability of the company resulting from hand trucks falling from delivery vehicles during transportation, reducing insurance costs and protecting brand image.
● Reducing the likelihood of injuries to the route driver due to insecure or unsafe handling and retrieval actions, thereby preventing workmen's compensation claims.
● Reducing the time lost by having to return to the previous delivery stop to retrieve the lost or forgotten hand truck, thereby lowering fuel expenses and labor costs.
● Reducing the damage to packages and other fragile merchandise due to loose hand trucks bouncing around within the cargo area, thereby lowering freight claims.
● Reducing bacterial or hazmat cross-contamination contact of product cargo, customer delivery locations thereby preventing illness, liability and insurance costs.
● Reducing costly temperature loss and fuel expenses by reducing open door time and total number of entries within refrigerated or cold plate food service truck bodies.
● Reducing the chance of hand truck theft or damage and merchandise theft from unattended or unlocked delivery vehicles, while providing a superior theft deterrent.
● Reducing the loss of valuable cargo space when transporting a hand truck within the vehicle interior, thereby increasing the vehicle's payload and storage efficiency.
---

Ergonomics and Safety is the key to higher worker productivity, reduced labor costs and liability.
The HTS Ultra-Rack is designed to increase worker safety, by using an ergonomic concept.
Use less physical effort and time to accomplish the same job task, via a newer and safer technology.
---
Many delivery companies believe rubber straps, bungee cords or loose chains will do the job! We discovered years ago that this was not true and using
these types of methods was expensive and very dangerous. Our HTS method is easier, faster, safer and it pays for itself in 10-12 months, guaranteed!
The HTS will also save you fuel, reduce freight claims and increase worker productivity! We titled this beverage truck photo "Double Trouble", with
every braking, acceleration and turning action of this beer truck, both hand trucks constantly sway back and forward, ready to fall off the vehicle.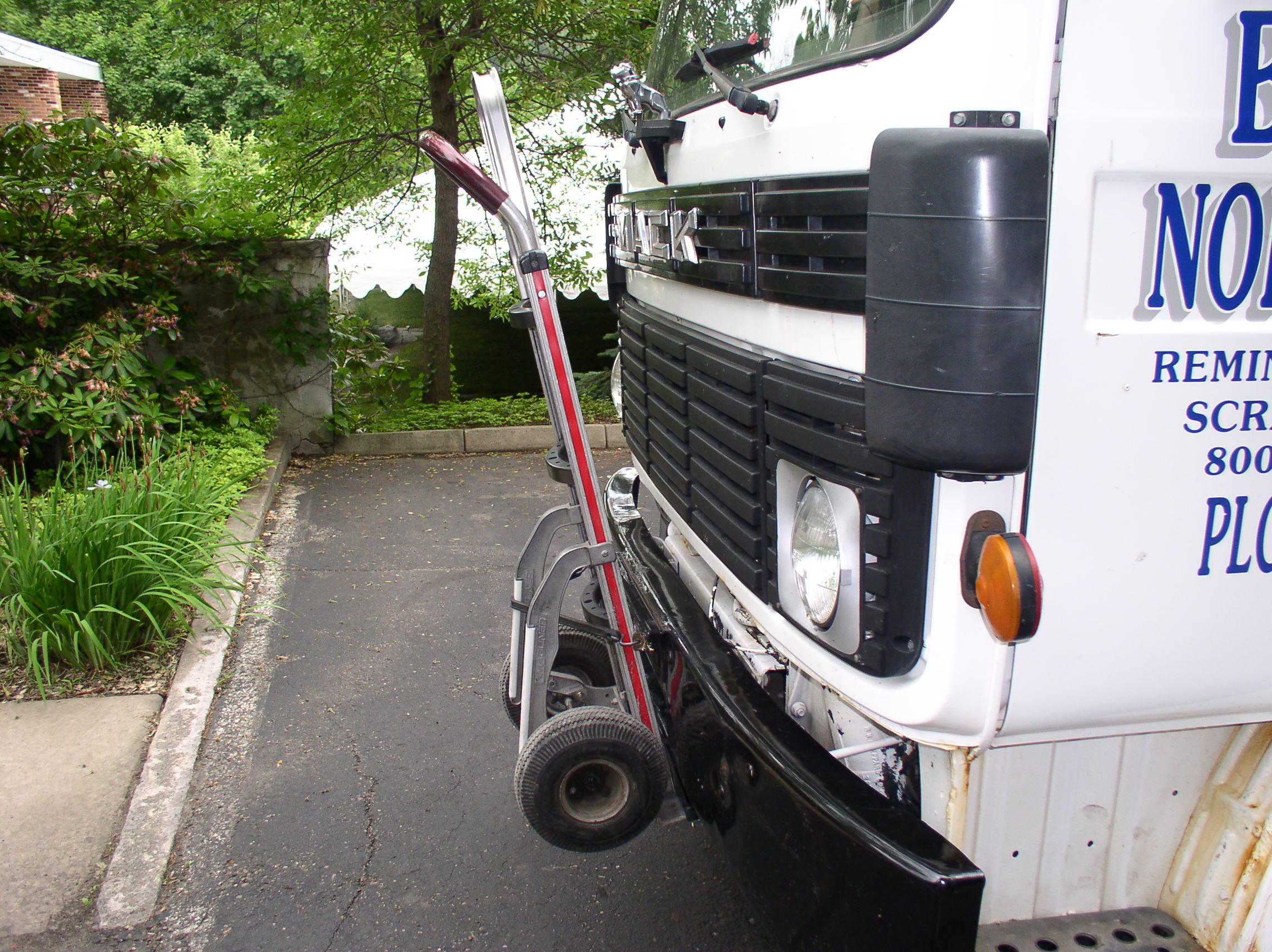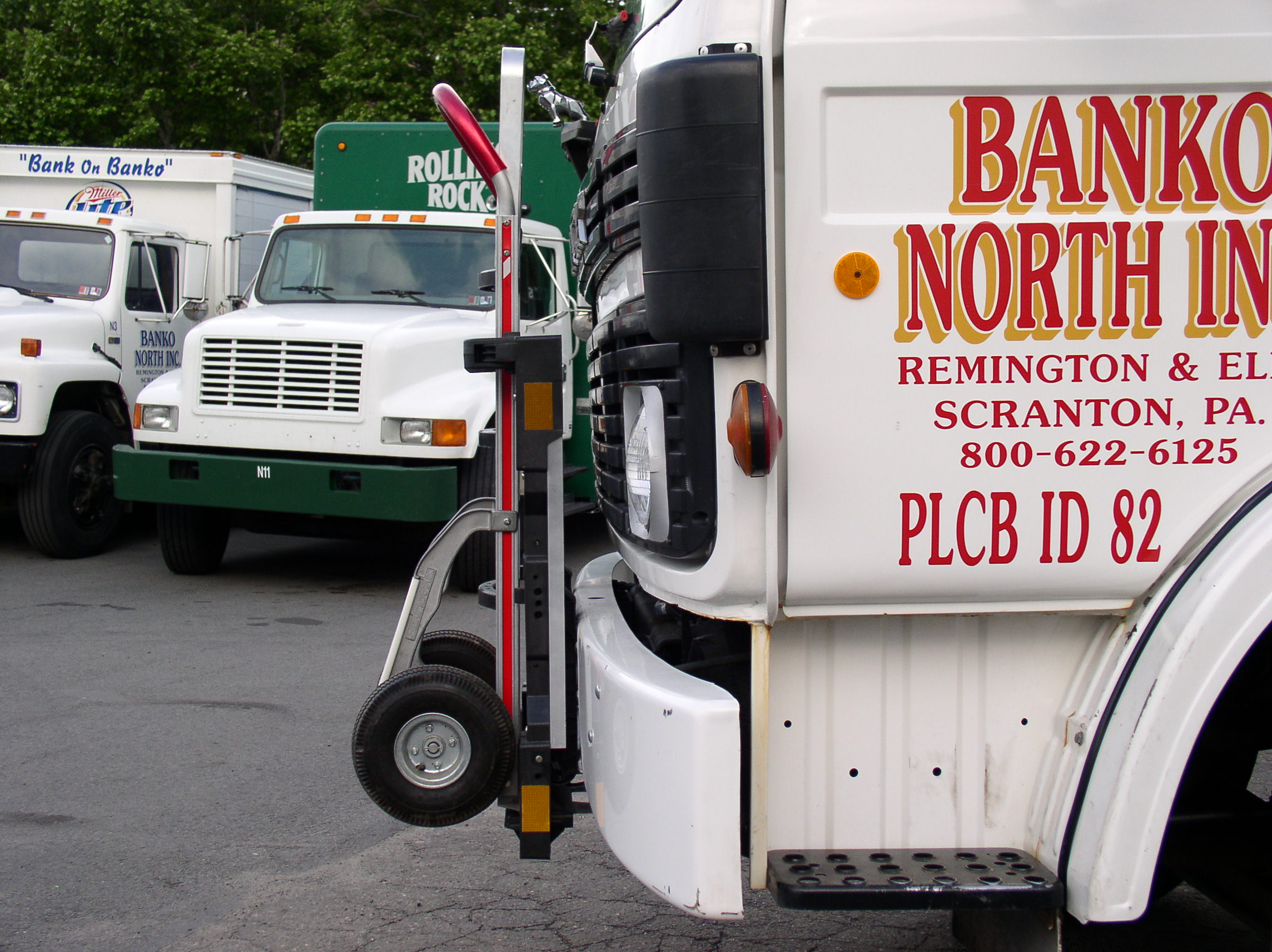 A hand truck secured to the front or rear of a delivery vehicle with a rubber strap or bungee cord is an accident just waiting to happen!
The losses can be disastrous at highway speeds! A hand truck weighing 15- 45 lbs. sailing through the air at highway speeds becomes a deadly
projectile when it impacts a car windshield or pedestrian! The HTS Ultra-Rack - Hand Truck Sentry System transports your hand truck safely.
Before the HTS Ultra-Rack using a swing hasp and padlock.

After the HTS Ultra-Rack installation and with no padlocks.

Before and after HTS Ultra-Rack installation, hand truck transported safe and secure.